22-NIGHT SOUTH AMERICA & ANTARCTICA
Get ready for the cruise of a lifetime: two continents, two vastly different experiences. South America with its winding fjords and rolling pampas, Incan empires and energetic Latin cities. And Antarctica with its utterly stunning icescapes and wildlife.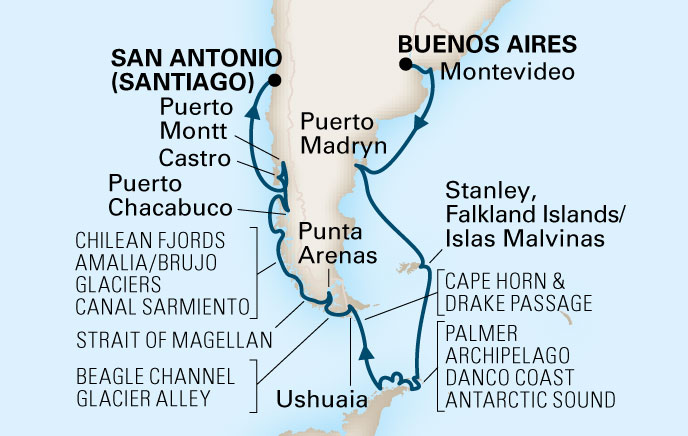 BUENOS AIRES TO VALPARAISO (SANTIAGO) OR REVERSE
Ship: ms Zaandam
Departure Date :
2019: Jan 8, Jan 30
Optional tours are available from most ports for an additional charge.
Itinerary
Days
An overnight stay in Buenos Aires gives you time to explore this fashionable city. Tango in the city where it was born? Not to be missed.
Day
Everyone in Montevideo, it seems, has a gourd of yerba mate in hand. Follow their lead, of journey to be boutique winery ripe with this year's release.
Days
From Puerto Madryn encounter this world's largest colony of Magellanic penguins, coming within fee of nesting couples and their fluffy, fledgling checks. More penguin sightings – gentoo, rockhopper, king – are possible in the Falkland Islands.
Days
The next five days will be forever with you as you explore the otherworldly realm of the Antarctica peninsula. Now you will see what few people ever see: colossal floating icebergs (some glowing so eerily blue they seem to be lit from within), thousands of penguins waddling to the sea, seals riding ice floes right beneath you verandah.
Days
Leaving the ice kingdom of Antarctica, you enter the lush, mountainous fjords and channels of the Beagle Channel, the Strait of Magellan and the Chilean Fjords that lace Chile's southern coast.
Days
Disembark in Valparaiso with a log of the cruise and memory cards brimming with evidence of your explorations.
Note : The Antarctica Experience. Exact itinerary in Antarctica will depend on permissions, ice, weather conditions and time available. There will be no landings in Antarctica. Visits by cruise ships to the Antarctica require government approval. Holland America Line has obtained government approval for this cruise. There remains the possibility, however, that this approval could be withdrawn if a change is made in applicable governmental requirements. *Prices above are shown in USD. Prices are per person, based on double occupancy. Prices do not include Government Fees & Taxes. Pricing and availability subject to change without notice. STIC Travels Pvt. Ltd. reserves the right to refuse or honor any prices / sailings that are erroneously printed or quoted. Terms & Conditions apply.