Industry captain and our Chairman - Subhash Goyal
Our Chairman, Mr. Subhash Goyal has not only steered the company to its present position of strength and emerged as a capable business leader but has expanded his area of operation to work for the entire travel industry. The Industry too has in return reposed trust in him by offering him numerous forums and platforms to espouse industry concerns.
Today he is counted among the travel fraternity's foremost spokesperson. Over the past years he has served the industry in various capacities and at present also holds many important positions in government and industry's associations.
Member - National Tourism Advisory Council, Ministry of Tourism, Government of India
Hony. Secretary – Federation of Associations in Indian Tourism & Hospitality (FAITH)
Chairman – Tourism & Services Sector of Federation of Indian Export Organizations (FIEO) set up by the Ministry of Commerce, Govt. of India.
Chairman – Assocham Tourism & Hospitality Council
Chairman – Expert Committee on Civil Aviation & Tourism Committee of the Indian Chamber of Commerce & Industry (ICCI)
Hony. Secretary General for Indo Latin American Chamber of Commerce
Immediate Past President - Indian Association of Tour Operators (IATO)
President – Confederation of Tourism Professionals
Author of a book entitled "Poverty Eradication & Economic Development Through Tourism"
About Subhash Goyal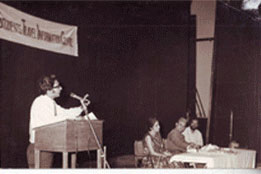 Mr. Subhash Goyal, Chairman addressing the gathering on 14th September, 1973.
Seated from Left to Right Mrs Ambika Soni, Dr. Karan Singh, Prof. Bhim Singh
Born in Delhi, Subhash Goyal did his B.Com (Hon.) and is the recipient of the highest honour of Shri Ram College of Commerce (the Hora Gold Medal). He displayed leadership qualities from the very beginning and was elected President of the Delhi University Students' Union (DUSU) in the Second year of College, becoming the youngest-ever DUSU President (1966-67). An M.B.A. from Delhi University, Subhash Goyal went on to become the President of the All India Central Board of University Students' Union (1967-70), a body representing over 9 million students. He received his PhD Doctorate Degree in Business studies from the Intercultural open University, Netherlands.
Subhash Goyal is the founder Chairman of STIC Travel Group of Companies, which he started in 1973 as a small travel and information center for students and built it up as one of the largest travel businesses in India, with 40 offices having over 300 professionally trained employees, representing various International Airlines and other tourism related products and services.
An ardent advocate of liberal aviation and tourism policies, Subhash Goyal is constantly trying to persuade the government to allow more International Airlines to start flying to India.
He was unanimously elected as the President of the Indian Association of Tour Operators for 6 years in a row (1995-2000). He has also been an honorary member of various Government bodies including the Tourism Board of Government of India, U.P. Tourism Board, Haryana Tourism Board, Government Institute of Tourism and Travel Management Gwalior, Airport Authority of India, Hotel classification committee, Treasurer - PATA India Chapter, Editor IATO News and a Member of the Tourism Committee of the Planning Commission.
Mr. Goyal is also the Recipient of Gem of India Award, Udyog Gaurav Award, Award for Excellence, Award for promoting National integration and contribution to the tourism industry of India, Order of Merit, he has also received several honors and awards from the Airlines he represents. He is also the recipient of the International man of the millennium Award from International Biographical Centre, Cambridge, Indira Gandhi Millennium Award 2000 and the 5000 personalities of the World award from the American Biographical Institute.
He has been an advisor to various national and international organisations and a columnist with the Hindustan Times on Tourism and Civil Aviation. He has been regularly contributing articles in various trade magazines and newspapers for the development and promotion of tourism in India and South Asia.
Awards
Travel Scapes - Versatile Excellence Travel Awards (VETA) – 2018
Delhiites - Entrepreneur of the year Award – 2017
All Ladies League & Women Economic Forum – Award of Exceptional Leader's of Excellence in Travel & Tourism – 2017
Safari India – Industry Icon 2017
Today's Traveller – Lifetime Achievement Award – 2017
International Tourism Conclave & Travel Awards – July 2017
Lovely Professional University – Distinguished Author of Tourism – 2016
ITCTA Lifetime Achievement Award (Jammu) – November 2016
SATTE – Participation & Support 2016
Skilled India Entrepreneurs Award – March 2016
InfraLOG – Asia Aviation Associates – National Summit on Logistic & Infrastructure – 2015
Tamil Nadu Tourism Award – 2015
Rotary Club of Delhi, Rajendra Place – Sterling contribution & Constant Efforts Award – May 2015
Safari India – Best Professional for promoting Tourism World Wide – 2015
OTM – Most Influential Person – 2014
Institute of marketing & Management (IMM) – Memento of Appreciation – 2014
ITFT Education Group – Award of Honour – 2014
North India Travel Awards – Travel Blazer – 2014
Media Press Club – Rashtriya Media Ratan – 2013
TAAI – Diamond Jubilee Indian Travel Congress – 60th Convention & Exhibition March 2012 – Istanbul, Turkey
4th Indian Tourist Transporters Association Convention (ITTA) – Sept 2012
Received Outstanding Task Force Leader Award 2001.
Recipient of Rashriya Ratna Award from United Indians at a glittering function in 2001.
Award for promoting national integration and contribution to the Tourism Industry of India. Order of Merit 1994.
Indian Friendship Society Award 1992
Udyog Gaurav Award 1992
Gem of India Award 1991
Award for Excellence 1991
Indira Gandhi Millennium Award 2000 and the 5000 personalities of the World award from the American Biographical Institute.
Recipient of the Alumni Award from Shri Ram College of Commerce, Delhi University
Recipient of the International man of the millennium Award from International Biographical Center, Cambridge
Also received several honors and awards from the Airlines represented.