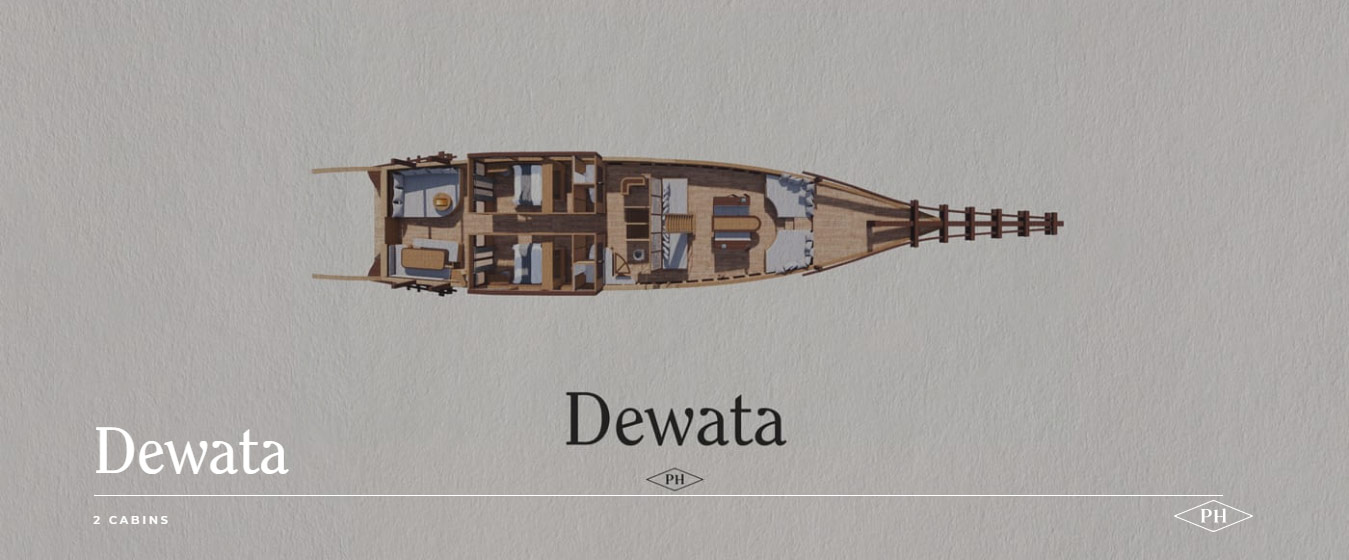 BETWEEN HEAVEN AND THE SEA
The ideal journey in paradise
Dewata means 'deities' and you will feel as if you are cruising with the gods whilst on this very exclusive boat, boasting two sea-view cabins on the main deck and an extra one on the lower deck.
Perfectly designed for your private cruises for you and your loved ones, families or friends, Dewata features the newest air or nitrox scuba diving equipment, so you can witness in style the richest coral reefs in the world.
Offering privacy, open space and views of endless shades of blue, cruising with Dewata private yacht is the promise of an unforgettable sea adventure. Go up onto the upper deck at sunrise to enjoy the extraordinarily beautiful all-round sea views, and at sunset, sip a glass of excellent wine or our delicious cocktails as you gaze at the breathtaking Indonesian night-sky.
The two main deck cabins feature large French windows with a sea view and access to a private patio and swimming platform. If you wish to come with children, 2 extra guests or your private staff, another cabin is available for them in the lower deck. It holds twin beds convertible to Australian king size, with en-suite bathroom and AC.
Dewata private yacht is fully equipped for water activities including Air or Nitrox (enriched Air O2 :30-32%) scuba diving equipment, providing our guests with exclusive, premium conditions for exploring the extremely rich marine life of Indonesia.

Detail Specifications
MEASUREMENTS
2-mast phinisi / 450 m2 sails
Overall length: 33m
Deck length: 28,5m
Width: 6,70m
Draft: 2,40m
AVERAGE CRUISING SPEED
GUEST CABINS
2 master cabins (king size beds)
1 standard cabin (2 single beds convertible to king size bed)
All with en-suite bathrooms
MAXIMUM CAPACITY
4 adults + 2 extra guests
9 crew including 1 cruise director
COMPRESSOR
TENDERS
SUPERSTRUCTURE
GENERATORS
COMMUNICATION
GPS Garmin
Radio VHF Marine / SSB
Satellite & Mobile phones
Wifi when in range
BATTERY SYSTEM
ENGINE SAFETY EQUIPMENT
Life Vests
Life Rafts
Fire alarms
GPS Satellite & mobile phones
First Aid Kit, Oxygen Kit
WATER MAKER
ENGINE
BUILDER
Yann Martinie, Co-founder of Pacific High with the Haji Uli of Tana Beru
MISC
Sound system
Expresso machine
Ice maker
Movie projector
Scubadiving equipment
Scubadiving courses
Free diving buoy and line
Snorkeling gear
Photographer desk
Sea kayak
Paddle board
Yoga mats