About Us
Established in 1973 and inaugurated by the then Minister of Civil Aviation & Tourism (Honourable Dr. Karan Singh), STIC has today become one of the largest travel groups in India with offices in all major cities across the country. It represents about twenty of the world's best travel, aviation, tourism, cruise and hotel brands exclusively in India, and is focused on bringing the best of the world to India's doorstep. With its head office in Delhi, STIC Travel Group's vast network of offices practically covers every corner of India. Backed by trained travel professionals across various divisions and supported by the latest technology, it has the resources to offer seamless travel marketing solutions.
Working toward the future in the Present (Experience):
For STIC experience is not just a number - because that simply states how old we are - but a journey, which comprises all the triumphs and trials, crashes and crescendos, opportunities and threats that we have learnt and risen from. Adapting to changes, both temporary and permanent, has helped us adopt a dynamic existence, wherein " the present" is in our work, but "the future" is in our minds.
Corporate Values: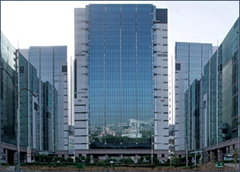 At STIC, we believe that success does not come from a single person. It is only when every employee in the organization is empowered and motivated to work towards this belief, can we truly succeed. And in order to do so, we need to build initiative and motivation at every level by constantly enhancing the structure and flow of communication. Keeping this in mind, we would like to present our "Principle of Participative Management", which is not just our philosophy, but the very foundation of our organization and is reflected in our corporate structure.
Market Coverage:
At STIC, we are constantly driven towards adding value to our corporate activities, thereby achieving 100% customer satisfaction. And as a means to do so, we have built an unparalleled physical and virtual network, which helps to penetrate every corner of the Indian Market, and seize valuable opportunities.
Industry captain and our Chairman: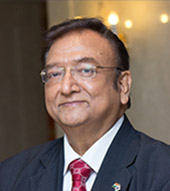 Our Chairman, Mr. Subhash Goyal has not only steered the company to its present position of strength and emerged as a capable business leader but has expanded his area of operation to work for the entire travel industry. The Industry too has in return reposed trust in him by offering him numerous forums and platforms to espouse industry concerns. Today he is counted among the travel fraternity's foremost spokesperson. Over the past years he has served the industry in various capacities and at present also holds many important positions in government and industry's associations.
Member - National Tourism Advisory Council, Ministry of Tourism, Government of India
Chairman – Aviation & Tourism Committee of the Indian Chamber of Commerce & Industry (ICCI)
President - Confederation of Tourism Professionals (CTP)
Secretary General (Foreign Affairs) – Association for Asia Pacific Union (AAPU)
Hony. Secretary General - Indo Latin American Chamber of Commerce
Member - ASSOCHAM National Council on Tourism & Hospitality
Former Secretary - Federation of Associations in Indian Tourism & Hospitality (FAITH)
Former Chairman – Tourism & Services Sector of Federation of Indian Export Organizations (FIEO) set up by the Ministry of Commerce, Govt. of India.
Past President - Indian Association of Tour Operators (IATO)
Author of a book entitled "Poverty Eradication & Economic Development Through Tourism"
Across Land, Sea and Air
STIC at present represents some of the world's top travel, aviation, tourism, cruise and hotel brands in India. In order to serve these brands effectively, STIC has developed exclusive divisions catering to their specific needs and goals. Each brand is managed by a dedicated team of professionals focused on achieving the desired sales and marketing goals and is supported by comprehensive plans and promotions. Public relations activity and promotional events are carried out at regular intervals targeting travel agents, tour operators, corporate clients, press and media etc. to ensure that the brands represented get the maximum visibility. Our marketing team also identifies complementary brands in the industry to structure co-branded marketing tie-ups.
Our core Divisions
Airline Sales, Marketing and Management
We provide valuable management, sales, marketing and operational services to some of the world's leading airlines as their exclusive General Sales Agent in India.
Cruise Division
STIC conducts all sales, PR, marketing and operational activities for global award winning cruise companies targeting all customer segments.
Hotels & Resorts Division
As representatives of globally acclaimed hotel and resort chains, we provide sales, reservations and marketing services to a cross-section of brands ranging from premium luxury to mid segment business and budget hotels.
Destination Sales & Marketing Division
We provide comprehensive market coverage, PR, direct marketing, and product information distribution services to tourism boards and theme parks for the Indian travel industry and retail market.
Student & Youth Travel Division
We provide exclusive travel & lifestyle products for students & youth on air tickets, worldwide hostel bookings, coach passes, train tickets etc. through our exclusive partnership with International Student Identity card (ISIC).
Cargo Division
Besides representing airlines as their Cargo GSA for India, we also provide warehousing facilities and conduct cargo charters for shippers and export houses in India.
Air Charter Division
Services for all categories of charters like Heli-sightseeing; Heli-skiing; Leisure charter flights; Charter flights for pilgrimage in India; Charter a helicopter; Corporate jets; Executive jets; Aircraft on rent for film shooting; Air Ambulance and Cargo Charter are provided by this division.
Tours Division
To cater to the needs of both Indian and international clients, this division offers a diverse range of tour packages catering to all customer and budget categories. The team is also experienced in successfully managing conferences, exhibitions and AGM's both in India and worldwide. Our portfolio of products range from Religious to Cultural and Adventure Tours, Students to Honeymoon packages etc. We also promote luxury cruises worldwide, tour packages to destinations like Sri Lanka, Thailand, Malaysia, Singapore, Hong Kong, Australia, and many more.
Applauses and Accolades
Our eventful journey since 1973 is adorned with numerous milestones, achievements and awards, which we cherish. These awards are a reflection of the high brand equity we command in the market as well as the admiration and respect we have earned over the years. STIC has won numerous awards from government institutions, industry associations and also from the airlines it represents. Some of these awards are:
Government & Industry Recognition:
Niryat Shri Award instituted by the Ministry of Commerce presented by the Vice President of India. STIC was the only company in the industry to receive the same for "excellence"
National Tourism Award ( category III) 2001-2002 for outstanding performance in the year
South Asia Travel & Tourism Exchange - award for "Ambassador for India Tourism" presented by Ms. Ambika Soni (Minister of Tourism)
Gem of India award - presented by Late President of India - Giani Zail Singh
Commercial awards
14 Awards received from Continental Airlines for "World's Best GSA"
Multiple awards received from SriLankan Airlines for "Sales Performance"
Cargo award for sales performance - received from SriLankan Airlines Cargo in the year 2002-2003
Sales performance award - from Royal Brunei Airlines
Today's Traveller Leadership Award presented by Tourism Minister, Smt. Ambika Soni to Mr. Subhash Goyal, Chairman STIC Travel Group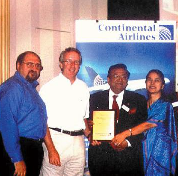 "World's Best GSA" Award being presented to Chairman & MD of STIC Travel Group by Continental Airlines in Houston (2003).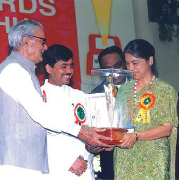 Niryat Shri Award instituted by the Ministry of Commerce. Being presented by the Vice President of India to Chairman & MD of STIC Travel Group. STIC was the only company in the industry to receive the same for "excellence".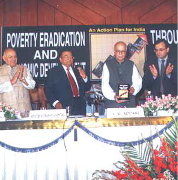 Mr. L. K. Advani (Deputy Prime Minister) releases Chairman's book titled "Poverty Eradication and Economic Development through Tourism".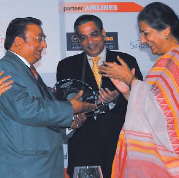 South Asian Travel & Tourism Exchange (SATTE) conferred the "Ambassador of India Tourism" award to Mr. Subhash Goyal, Chairman STIC Travel Group.
Why Choose us?
Vast Experience in marketing airlines, hotels, cruise liners and other travel products
In-depth national network comprising of offices across all major cities of India
Proven track record of sales performance
Highly acclaimed by having won multiple awards
Strong Partner Relationship
Strong Infrastructure & Technical Base
Extensive links and trade connections with travel partners across the world
Beyond all the above aspects the main reason why companies have chosen STIC as its partner in India is due to strong domain knowledge developed over three decades of consistent growth across various regions of the country. This organic growth combined with strong sales and marketing acumen and an in-depth understanding of the intricacies of various geographic and psychographic customer segments has resulted in the company consistently exceeding performance level benchmarks established by the brands represented.
Our Physical Network
At STIC, we have developed a keen and critical understanding of dynamics governing the nature of markets. This combined with a vast source of business information has stood us in good stead while reaching out to the far corners of India.
One of the largest travel groups in India with offices in all major cities across the country
A strong workforce of more than 300 employees.
24-hour connectivity through Phone , Fax, Internet and CRS systems.