7 days - Antilles Island Hopping [Bridgetown to San Juan]
Bridgetown to San Juan
Ship: �Star Pride
Departure Date :
Feb 22 2020
Optional tours are available from most ports for an additional charge.
Itinerary
Day
Bridgetown, BarbadosDepart 06:00 PM
"Barbadians, or Bajans in local parlance, consider their island nation the most British of the Caribbean: Queen Elizabeth II is still head of state, and English products are stocked in many of its stores and restaurants. Barbados is known as the birthplace of international pop star Rihanna, but it has also produced some of the biggest Caribbean calypso and soca music stars. The summer Crop Over festival is a huge carnival event. With live music and crafts for sale, the popular Friday fish fry at Oistins Bay is a fun place to mingle with the locals. Centered around a waterway called the Careenage and its handsome Chamberlain Bridge, the historic center of Bridgetown, the country's capital, was granted UNESCO World Heritage status in 2011 for its wealth of British colonial architecture dating from the 17th, 18th and 19th centuries. Among the famous figures who visited Bridgetown when it was at its peak was none other than George Washington, who spent two months in 1751 in a house that still stands today, on his only trip abroad."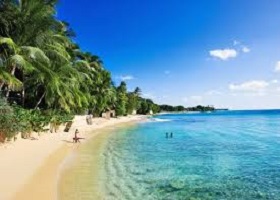 Day
Bequia, St. Vincent & the GrenadinesArrive 08:00 AM Depart 07:00 PM
The only ships in port are those small enough to anchor alongside the yachts and fishing boats in Admiralty Bay. Bequia's whaling heritage is on display in the museum in pretty Port Elizabeth, or watch the island's famed model boat builders at work on their miniature masterpieces.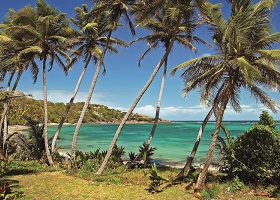 Day
Castries, Saint LuciaArrive 07:00 AM Depart 10:00 PM
So you think you've "done" the Caribbean? St. Lucia kindly asks you to think again. With mountain peaks, plunging valleys, lush rain forests, historic sites, tropical flora and fauna and the world's only drive-in volcano, this island of 165,000 residents is more than just pretty palm-fringed beaches along a turquoise sea—though there happen to be plenty of those, too. No wonder France and England battled for nearly 200 years to control this sun-kissed island. Wayfarers arriving these days have less nefarious plans and want only to preside over St. Lucia's legendary natural wonders and eco-adventures. Choose a heart-thumping hike up the Pitons—named a UNESCO World Heritage Site in 2004—or a treetop tram ride over the flower- and bird-filled rain forest. Humdrum may be hard to find, but there are plenty of warm welcomes from friendly locals. The island's eclectic culture and history are shared daily through the Creole patois spoken in markets and on street corners, in the French names of colorful fishing villages and in savory recipes infused with African, French and Carib heritage. And have we mentioned the sublime sunsets? Some Caribbean islands really do have it all.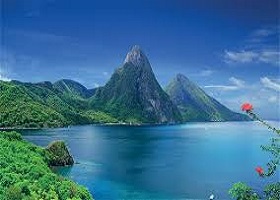 Day
Les Saintes, GuadeloupeArrive 09:00 AM Depart 06:00 PM
This is the Caribbean as you've always imagined it, with yacht-filled harbors set against volcanic mountains and endless stretches of palm-fringed beach. The underwater world here attracted the likes of Jacques Cousteau, but even novice snorkelers will enjoy exploring these impossibly blue waters.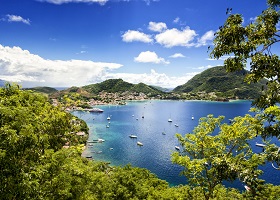 Day
Basseterre, St Kitts and NevisArrive 08:00 AM Depart 10:00 PM
"The Beautiful Sisters," St. Kitts and Nevis are separated by a two-mile-wide strait but joined together as an independent island nation. Known and loved for their sleepy pace, these islands are awakening to become an "in" place among well traveled North Americans and Europeans. A small, green volcanic speck in the blue Caribbean, St. Kitts offers quiet beaches, remnants of the old British plantocracy, and dreamy days under silk-cotton trees, soothed by the scents of flamboyants and frangipani. The native Arawak and Carib Indians called St. Kitts the fertile isle, and until as recently as 2005, the island was still dependent upon sugar for a large segment of its economy.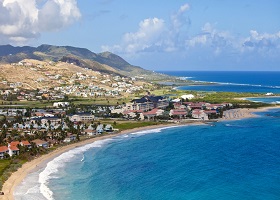 Day
Gustavia, Saint BarthelemyArrive 08:00 AM Depart 10:00 PM
"St. Barts, a French territory in the Caribbean's Leeward Islands, is the ultimate jet-set beach destination. Its 14 pristine beaches are jewels set in sparkling waters, the cuisine is infused with a French flair and the scene is cosmopolitan chic. Other islands in the region might be casual and laid-back, but here the dress code is stylish caftans, oversize sunglasses and sky-high heels. And the preferred mode of transportation is the yacht. Gustavia, the capital and main port of St. Barts (also spelled St. Barths), embodies the island's international appeal. A former fishing village, it was named for King Gustav III of Sweden—the Swedes occupied the island in the early 19th century, leaving a legacy of names and sites. The town's winding streets are lined with high-end boutiques, excellent restaurants and plenty of bars where you can toast your visit with a glass of refreshing rosé. A handful of historic sites, including forts and a lighthouse, add to the attractions. "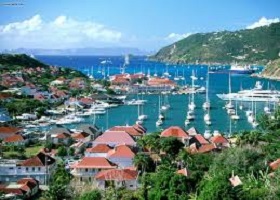 Day
Virgin Gorda, Prickly Pear Beach, B.V.IArrive 08:00 AM Depart 05:00 PM
A beautiful coral reef wavers just beneath you as your ship makes the break into exclusive North Sound. You can imagine the reaction of the locals watching from The Bitter End Yacht Club as your ship comes around the corner under full canvas. At the other end of the island lies the curious assembly of house-sized boulders called "The Baths," which form huge underground pools and caverns that you're free to explore.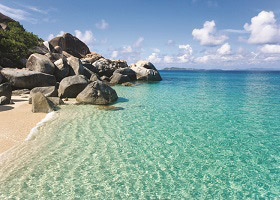 Day
San Juan, Puerto RicoArrive 07:00 AM
"Back in the 1500s, Puerto Rico was one of the first Caribbean islands to be settled, and its capital, today's San Juan, became a vital hub of Spain's New World colonies. The historic part of the city, known as Old San Juan, is now a UNESCO World Heritage Site; it's also a National Historic Site within the U.S. National Park Service. Strolling the narrow cobblestoned streets of Old San Juan, you'll discover a historic treasure surrounded by massive city walls. You can climb the ramparts of imposing fortresses like El Morro, at the entrance to the bay, and visit the Cathedral of San Juan Bautista, one of the oldest churches in the Americas and the final resting place of the city's founder, Ponce de León. Modern San Juan extends well beyond the historic district and offers diversions of its own. Condado, a lively beachfront neighborhood, has high-rise resorts and trendy waterfront bars. Visitors may sample one of Puerto Rico's best-known products at Casa Bacardí, the rum distillery across the bay. And stunning natural wonders await just outside the city, including the rain forest and waterfalls of El Yunque National Forest and the otherworldly lights of Fajardo's bioluminescent bay. "