8 days - Southern Mexico: Fish Tales & Mayan Trails
Puerto Caldera to Puerto Vallarta
Ship: Star Breeze
Departure Date :
Jun 01 2020
Optional tours are available from most ports for an additional charge.
Itinerary
Day
Puerto Caldera (Puntarenas), Costa RicaDeparts 06:00 PM
One of the stops along the Panama Canal Zone route, Puerto Caldera on Costa Rica's Pacific Coast isn't your ordinary port of call, positioned as it is within easy day-trip distance of the country's multiple national parks. The town itself is small, but makes for an ideal base from which travelers can venture out to explore the variety of this Central American country's outdoor attractions and activities. These include snapping photos of gushing waterfalls (and swimming at the base of one, if you bring your swimsuit!), sightseeing near active volcanoes, bird-watching in nature reserves and sanctuaries and horseback riding on Pacific beaches . . . and that's just for starters. Visitors to Puerto Caldera and the surrounding region also enjoy shopping for handicrafts that local artists sell at their cooperatives, as well as sampling traditional Tico cuisine, especially gallo pinto—a combination of rice and beans eaten at any time of the day or night. Puerto Caldera is the perfect reminder that adventure often awaits just around the bend.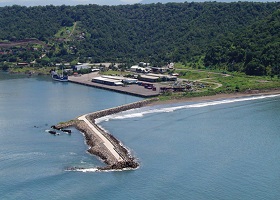 Day
Bahia Herradura, Costa RicaArrives 08:00 AM Departs 06:00 PM
The coastal area of Bahia Herradura is known worldwide as the fishing capital of Costa Rica. It is a popular tourist destination with close proximity to Jaco Beach, with its excellent surfing conditions. This area offers many other outdoor recreational options along the black-sand beaches lined with palm trees. You will not have to worry about running out of daylight regardless of the time you visit because the sun rises and sets at the same time in Costa Rica all year long.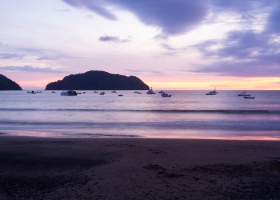 Day
Playas del Coco, Costa RicaArrives 06:00 AM Departs 05:00 PM
Playas del Coco, a UNESCO site, is one of Costa Rica's most celebrated snorkeling areas with dolphin, puffer fish, eels, stingrays, and other tropical sea life animating the waters. In addition to its unspoiled cocoa-colored beaches, Playas del Coco is a jumping off point for rainforest canopy tours, nature walks, and other inspiring eco-adventures.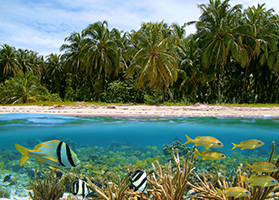 Day
Puerto Chiapas, MexicoArrives 07:00 AM Departs 05:00 PM
The southernmost port on Mexico's Pacific coast, Puerto Chiapas is named for the state in which it is located. It is relatively new, built in 1975, and is the primary hub from which the region's agricultural goods, including coffee, are sent abroad. For travelers arriving by cruise ship, the town of Puerto Chiapas is a jumping-off point to explore surrounding areas, including Tapachula, the second-largest city in the state of Chiapas. In addition to visiting the coffee estates and banana and cacao plantations of the area, day trips include excursions to Maya sites such as Izapa. Although not as well known as some of the Maya sites of southern and eastern Mexico, such as the UNESCO World Heritage Site Chichén Itzá, Izapa is impressive nonetheless. In addition to its interesting location—it sits along a river and is aligned with a volcano (the sixth-tallest mountain in Mexico)—archaeologists have found numerous stelae and evidence that it was the largest Maya site in Chiapas. While in the area, don't miss the opportunity to sample the cuisine of Chiapas, which is influenced heavily by the Maya. One typical dish is tasajo, a thinly sliced beef steak marinated in a sauce made with achiote (also known as annatto) and chili.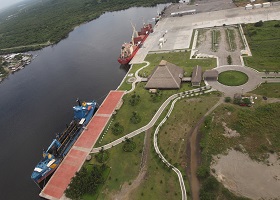 Day
Huatulco, MexicoArrives 11:00 AM Departs 06:00 PM
Huatulco, situated on Mexico's Pacific Coast in the state of Oaxaca, has nine bays and 36 beaches, offering more than enough opportunities for fun in the sun. The most popular beach is La Entrega, with clean white sand and calm waters, perfect for snorkeling and swimming . . . or just relaxing. But Huatulco's attractions aren't limited to sand and surf; there are also archaeological sites to explore, rivers to raft, and waterfalls whose pools invite childlike splashing. Bird lovers, in particular, will find Huatulco to be especially captivating. The region is home to more than 225 bird species, including many rare ones and a number that are endemic to Mexico, like the Colima pygmy owl and the wildly colorful orange-breasted bunting and citreoline trogon. Bring your bird list, because you're sure to add new species to your "sighted" column. And the food in Huatulco! The food will give you plenty to write home about. The state of Oaxaca has some of the most iconic dishes in Mexico's culinary repertoire. You won't go home hungry.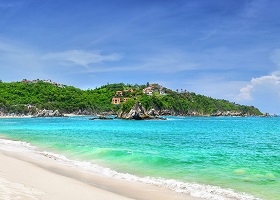 Day
Manzanillo, MexicoArrives 10:00 AM Departs 05:00 PM
Acclaimed as "The World's Capital of Sailfish," Manzanillo is a superb nautical destination, boasting smooth waves, moderate currents and twenty golden beaches. Its maritime history dates back to the 17th Century, where it was the starting point for numerous expeditions to the Orient. Halfway between the United States and Guatemala, Manzanillo is slow in developing, which contributes to its charm. However, it is quickly gaining in popularity due to the railway and superhighway that now connect Manzanillo and Guadalajara. It isn't just accessibility that draws people to this rustic seaside town, but the spectacular beaches, the excellent deep sea fishing, and deluxe resorts like the unique Moroccan-styled Club Las Hadas that was featured in the film "10.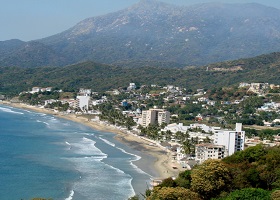 Day
Puerto Vallarta, MexicoArrives 08:00 AM
Unique compared to Acapulco, Cancún, Zihuatanejo and several other coastal resort towns in Mexico—many of which were created by the government as planned communities—Puerto Vallarta ("PV" to locals), on the Pacific Ocean, retains quite a bit of its colonial-era charm. Its town square, Plaza de Armas, and the gorgeous parish church of Our Lady of Guadalupe, topped with an ornate crown and overlooking the port, serve as the loveliest representations of bygone ages. Alongside these echoes of the past are more modern attractions, including an ambitious public art project along the seaside walkway (the malecón) and trendy restaurants such as La Leche, serving contemporary Mexican cuisine. Round these out with plenty of fun-in-the-sun outdoor activities on and along Banderas Bay (whale-watching! snorkeling! jet-skiing!), excursions that reveal the best of Puerto Vallarta's flora and fauna, and a side trip to one of Mexico's pueblos mágicos (magical towns, a designation conferred by the government to recognize smaller towns that possess historical and cultural value), and you'd be hard-pressed to find a more pleasant place to spend part of your cruising vacation.