8 Days - Norway's Famous Fjords [Edinburgh to Copenhagen]
Edinburgh to Copenhagen
Ship: Star Legend
Departure Date :
Optional tours are available from most ports for an additional charge.
Itinerary
Day
Edinburgh, ScotlandDeparts 06:45 PM
From the Firth of Forth, a UNESCO site, to the Royal Mile, Edinburgh is steeped in history. Edinburgh Castle. The Royal Botanic Gardens. The UNESCO site of Old Town. The wonders of Edinburgh are never ending. From one of Europe's best-preserved castles to the world's longest herbaceous border, a riot of color and culture pervades. In this city as old as Scotland itself, you'll find the perfect blend of historic tradition and natural beauty.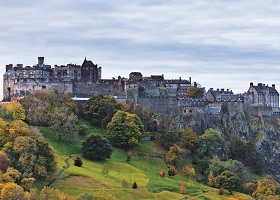 Day
Bergen, NorwayArrives 07:00 AM Departs 05:00 PM
Beautiful Bergen, Norway's second-largest city, is one of the most popular ports of call on a cruise up the fjords. Step off the ship into the medieval Bryggen wharf area, a UNESCO World Heritage Site since 1979, where small boats line the harbor and wooden gabled buildings stand proud along the waterfront. Bergen's rich maritime tradition goes back nearly 1,000 years, including the years the town played an important part in the Hanseatic League, the trading empire that dominated maritime commerce in the region between the 14th and 18th centuries. The city is one of Europe's oldest settlements, and its cobblestone streets and narrow alleyways lead to emerald-green parks, medieval cathedrals and stone fortresses that kept enemies at bay centuries ago. It's also eminently walkable, with historic buildings and excellent markets selling everything from fish and produce to trinkets and souvenirs.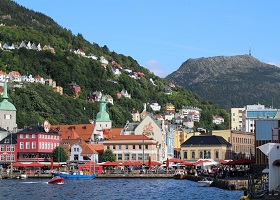 Day
Geiranger, NorwayArrives 01:00 PM Departs 10:00 PM
"Geirangerfjord is one of the most beautiful spots in Scandinavia—if not the world. These are among the planet's longest and deepest fjords, with steep walls of rock dropping some 500 meters below the water's surface and rising 1,400 meters above sea level. Waterfalls tumble down from high above, free-flowing rivers snake through forests and glacial lakes stretch for miles. It's no surprise that these glacially carved masterpieces cut into Norway's western coast were made a UNESCO World Heritage Site, along with the nearby Nærøyfjord, in 2005. The small village of Geiranger lies at the head of the Geirangerfjord, and being here is all about being outdoors in the clean, crisp Norwegian air to enjoy the stunning scenery. Cruise ships anchor at the end of the Geirangerfjord and passengers can hike, kayak, bicycle and ski to see the gorgeousness up close. "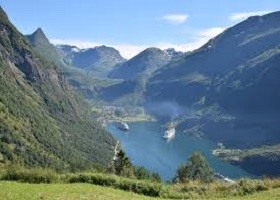 Day
Alesund, NorwayArrives 07:00 AM Departs 01:00 PM
"Ålesund, a quaint fishing town of approximately 45,000 in western Norway, has been called Norway's most beautiful city. A fire in 1904 destroyed much of it, resulting in the town being rebuilt in the Art Nouveau style—also known as Jugendstil—that was popular around the turn of the 20th century. A year after the fire, Norway gained its independence from Sweden, which led to a campaign to build a ""Norwegian town"" to mark the creation of the new nation. The colorful buildings feature castlelike turrets and spires with intricate facades of ornamental flowers, gargoyles and Viking-inspired decorations. Bordering the Norwegian Sea, this area is also famous for its mountain ranges and fjords. For those looking for a more active visit, Ålesund offers great hiking, mountain biking and kayaking. One of the highlights is climbing the 418 steps that lead up Mount Aksla for a spectacular view of the city and the Sunnmøre Alps. Nearby is the Geirangerfjord, a UNESCO World Heritage Site known for its beautiful waterfalls. This is also home to Atlanterhavsparken, or the Atlantic Sea Park, one of the largest aquariums in Europe. "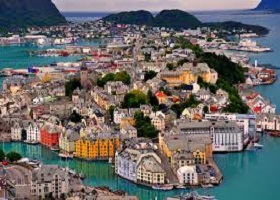 Day
Skjolden, NorwayArrives 09:00 AM Departs 05:00 PM
Located at the end of picturesque Lusterfjord with its emerald-green waters from melting glaciers, Skjolden is nestled between Norway's highest mountain range, Jotunheimen National Park and two glaciers. It is home to the wooden, 12th century Urnes Stave Church, a UNESCO World Heritage Site.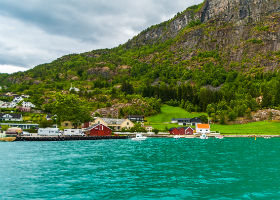 Day
Stavanger, NorwayArrives 01:00 PM Departs 10:00 PM
"Before this port city on Norway's western coast earned its status as the epicenter of "black gold" and the extraction of North Sea oil, it was a shipbuilding and fish-canning town. Fuelled by its wealth as one of the world's top energy capitals, it's now home to top-notch fusion restaurants and a bustling nightlife that caters to a never-ending influx of expatriates. Amidst this financial boom, though, Stavanger has managed to hold on to its heritage and soul: Archaeological museums and reconstructed settlements pay due reverence to the city's Viking past. The cobblestoned Old Town is a well-preserved core of white wooden cottages near an Anglo-Norman cathedral, the oldest in Norway. Natural beauty abounds, too, with the nearby Lysefjord and its impressive Preikestolen ("The Pulpit Rock") drawing a steady stream of visitors during the summer. "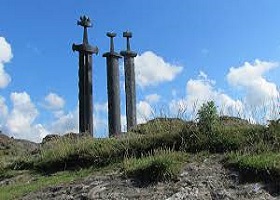 Day
Copenhagen, DenmarkArrives 07:00 AM
"Copenhagen is one of the easiest European capitals to fall in love with. The sights of old buildings, cobbled streets and the tower- and turret-dotted skyline lend fairy-tale charm—this was, after all, the home of author Hans Christian Andersen. But make no mistake: This is a thoroughly modern city with international clout. Restaurants around the world draw inspiration from the New Nordic cuisine pioneered by Noma and other Copenhagen restaurants, while Danish design from this century and the last is universally admired and coveted. Urban planners flock here to try to work out just how the city remains so livable and yet so functional, and despite its wealth of old buildings, Copenhagen's not locked in the past; there are also thrilling examples of modern architecture. Copenhagen is a city that's easy to find things to do and explore on foot or by excellent public transport, where everyone speaks perfect English, the food is fresh and innovative, and there's plenty of locally brewed beer—which, of course, is best enjoyed sitting by the water on a sunny day. "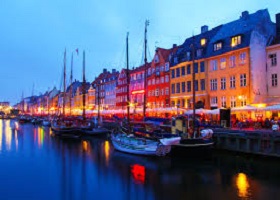 Get Quote
Talk To Expert