8 Days - A Piece of Greece, a Slice of Sicily & the Corinth Canal [Athens to Barcelona]
Athens, Greece to Barcelona
Ship: Star Legend
Departure Date : May 10 2024
Optional tours are available from most ports for an additional charge.
Itinerary
Day
Athens, GreeceDeparts 05:00 PM
Athens is the historical capital of Europe, with a long history, dating from the first settlement in the Neolithic age. In the 5th Century BC (the "Golden Age of Pericles") – the culmination of Athens' long, fascinating history – the city's values and civilization acquired a universal significance. Over the years, a multitude of conquerors occupied Athens, and erected unique, splendid monuments - a rare historical palimpsest. In 1834, it became the capital of the modern Greek state and in two centuries since it has become an attractive modern metropolis with unrivalled charm.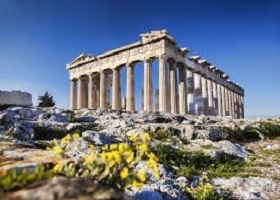 Day
Delphi, Itea, Greece / Transit Corinth Canal, GreeceArrives 08:00 AM Departs 10:00 AM / Arrives 02:00 PM Departs 09:00 PM
Before there were fortune cookies there was the oracle of Delphi, dating back to 1400 B.C. The oracle gave cryptic guidance to the leaders of the day and was so highly respected that Delphi, now a UNESCO World Heritage Site, became known as the center of the world. An optional tour lets you go exploring, from the Temple of Apollo to the Delphi Archaeological Museum, which contains some of the finest works of art in Greece.

Transit Corinth Canal, Greece

You'll want to be on deck today as we transit the narrow Corinth Canal with other private yachts and Greek mail steamers. It's a shortcut reserved for petite ships like ours, and as we cruise between the narrow limestone walls we are the envy of all the ancient Romans who once portaged their ships along this very route before there was a canal.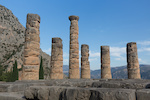 Day
Corfu, GreeceArrives 02:00 PM Departs 09:00 PM
One of the most beautiful and popular islands, located on the Ionian Sea, Corfu has wonderful beaches and small villages throughout the island. Take in the Venetian influence at the two fortresses located in Old Town, a UNESCO World Heritage Site.
Day
Argostoli, Cephalonia, GreeceArrives 07:30 AM Departs 02:00 PM
"Cephalonia is the largest island in the Ionian Sea, famous for its gorgeous beaches, crumbling castles, secluded monasteries and warm Greek hospitality. Throughout the course of history, Cephalonia has exchanged hands many times—from the Normans to the Venetians to the Ottoman Turks, and it has survived occupations by German and Italian soldiers during WWII. These influences from other European countries have shaped the island's culture, and are especially evident in the spelling variations of place names. Several museums and memorials around town pay tribute to both Cephalonia's classical and recent history, and are worth a visit. Argostóli is Cephalonia's port town, on the bay of Livadi. It was rebuilt after a devastating 1953 earthquake. The architecture, although new, remains traditionally Greek. Lithostroto is the main drag—a pedestrian-only street lined with specialty shops and tourist kiosks offering souvenirs and the island's famous cheese pastries. During the warm months, musicians come to play traditional music by guitar and mandolin in Vallianos Square (Plateia Valianou) while down beside the waterfront promenade, local fishermen haul in their daily catch. "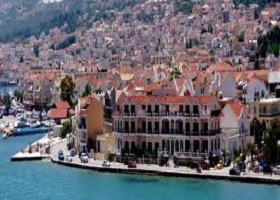 Day
Messina (Taormina), ItalyArrives 10:00 AM Departs 05:00 PM
Gateway to Mt. Etna, the awe-inspiring and still-active volcano, the seaport of Messina is the third-largest city in Sicily. Known for its fine cathedral, museums and for its rich Sicilian wines, Messina and the surrounding area was also the location for much of the Godfather series of films. An afternoon or a day in Messina can include a drive up to the windswept side of Mt. Etna (hold on to your hat—it is seriously windy here!) or to the shop-lined streets of Taormina. Many stores sell Sicilian ceramics, with colorful hues painted on volcanic earthen pottery, pieces created in the same way that they have been for centuries. Look also for jewelry and crafts made from beautiful black volcanic glass, collected from the slopes of Etna.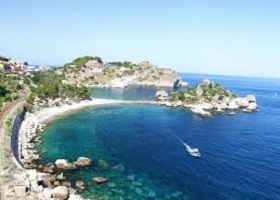 Day
Trapani, ItalyArrives 08:00 AM Departs 05:00 PM
"Trapani, an ancient port city on the far western end of Sicily, is closer to Tunis—as the crow flies—than it is to Taormina. Separated from North Africa by the Strait of Sicily, the city has been ruled by the Carthaginians, Romans, Arabs, Normans and the Kingdom of Naples, and sits on a narrow spit of crescent-shaped land (the name Trapani is derived from the Greek word for "sickle") surrounded by a busy port and harbor, numerous salt pans and beaches. From the fishing port, daily catches of octopus, cuttlefish, shrimp and sardines are sold at a morning market. This area of Sicily is known for the mattanza, the ritual funneling of bluefin tuna into smaller and smaller nets and then killing them. The practice has been banned and largely disappeared due to drastic overfishing, but still survives in the nearby Aegadian Islands. Because the city was heavily bombed in World War II, many of its buildings and apartment blocks are modern, but the old town has been restored to Baroque grandeur. The fortified walls of the Bastione Imperiale protected the city along its seafront, and visitors can climb to the top for an excellent view of the town spreading back toward the castle hill town of Erice. "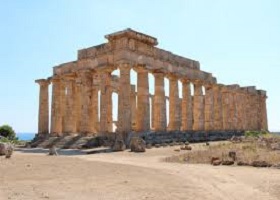 Day
Cagliari, Sardinia, ItalyArrives 08:00 AM Departs 11:59 PM
"According to Greek mythology, ""Caralis"" was founded by Aristeus, son of Apollo, though historians date it to the 8th century B.C.E., when the Phoenicians established a trading port here. Sardinia's capital was later fought over by Carthaginians, Romans, Pisans, Spanish and Piedmontese—all of whom shaped its development. Most sights are in Castello, the old town that climbs the hill behind Saint Remy's rampart. It's a rough grid of narrow streets and small squares with breathtaking views of sea, city and mountains. And while the old stones of Castello reflect millennia of history, Cagliari also has natural riches, with white beaches and flamingo-dotted blue lagoons nearby. Sardinia has one UNESCO-listed site: a megalithic nuraghe complex 60 kilometers north of Cagliari (though some would argue that the town's Roman amphitheater and Tuvixeddu necropolis could also be candidates for UNESCO recognition). Whether you are a history buff or drawn more to culinary or natural wonders, you'll find much to delight in this lively, fascinating city."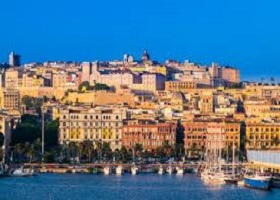 Day
Barcelona, SpainArrives 08:00 AM
On the northeast coast of Spain, overlooking the Mediterranean, Barcelona is a vibrant port city, packed with centuries of iconic art and architecture—Gaudí and Picasso both called it home—and lined with sunny white-sand beaches. Explore the Catalan capital's tourist attractions and historic neighborhoods, Modernisme and world-renowned art museums, galleries and local crafts shops—some of which are centuries old and stock traditional Catalan wares. After you see the sights, there are lively tapas bars around every corner where you can stop for a drink, a café amb llet (Catalan for espresso with steamed milk) or a snack, no matter the hour. Green spaces for picnics, long walks and respite from the hustle and bustle are scattered throughout Barcelona's attractions: There's Gaudí's mosaic-decorated park, a neoclassical maze at the Laberint d'Horta, as well as plenty of high places (mountains, monuments and edifices) where sightseeing visitors can take in the view. A short trip from Barcelona by car or train, luxury outlets, cava wineries, a mountaintop abbey and the sandy beaches of the Mediterranean coast await.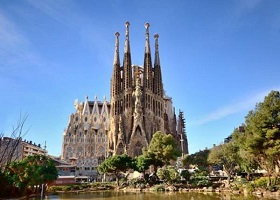 Get Quote
Talk To Expert