11 Days - Monteverde Cloud Forest & Arenal Volcano Cruise Tour [San Jose to Colón]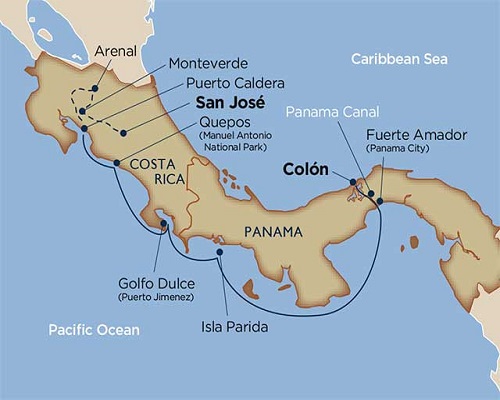 San Jose to Colon
Ship: Wind Star
Departure Date : Jan 09 2024 | Jan 30 2024 | Feb 20 2024 | Feb 28 2024 | Mar 05 2024
Optional tours are available from most ports for an additional charge.
Itinerary
Day
San Jose, Costa Rica Marriott
Arrive in San José where a private transfer will be waiting at the airport to take you to your deluxe room at the Costa Rica Marriott Hotel. You will have the rest of the day on your own to explore the sights of San José like La Sabana Park, Museo del Jade Marco Fidel Fristan Castro and San José Central Market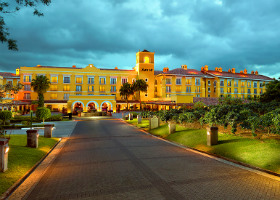 Day
Monteverde (B,L,D)
Enjoy an early breakfast at the hotel and a scenic drive to Monteverde as your English-speaking guide introduces you to the wildlife you might encounter at the Monteverde Reserve. Founded in 1972, the Monteverde Cloud Forest Biological Reserve is among the most famous reserves in the world for its biodiversity, conservation, contributions, and scientific researches. Hike in the forest canopy, go birding, hoping to spot the Resplendent Quetzal, or discover the aromas and beauty of the coffee plantation. The evening brings Curi-Cancha Reserve, part of 210-acre private wildlife reserve in the very heart of Monteverde, covering both lower, and wet montane, and premontane wet virgin cloud forest. The night allows for possible sightings of mammals and sleeping birds. Enjoy the nightly symphony of frogs and insects. Return to the hotel for dinner and overnight.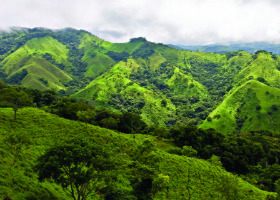 Day
Monteverde to Arenal (B,L,D)
Enjoy breakfast at your hotel to fuel you for your lake crossing to Arenal. On the way, stop at Rancho Heliconia for a tour of world-famous Costa Rican coffee plantation, take a cooking class on local cuisine, and leave your green footprint by planting a tree. Lunch is served at Rancho Heliconia. Then head to Arenal Lake to board a boat. At the other side of the lake, head to Tabacon Resort for the rest of the evening is at your leisure. Soak in the hotel's well-known hot springs to prepare for your next full day. Buffet-style dinner at Aves del Paraiso is included.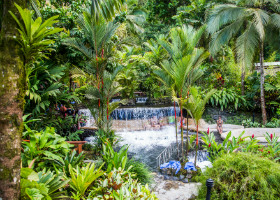 Day
Arenal Option A or B
Today includes the option of ziplining through the trees or walking a series of impressive bridges in the treetops. Start your day with breakfast at your hotel. Then it's off on adventure. If you're ziplining you'll head to Arenal Park for a 20-minute gondola ride to see the rainforest, the Arenal Volcano and Arenal Lake. Then you'll zipline, traveling 600 feet in the air to see nature from a truly different perspective. Or if you're walking the bridges, you'll start your adventure at Mistico Park. You'll want to bring your binoculars to look for the birds and howler monkeys in the trees around you. Then on to Arenal Park to take the gondola ride. Enjoy lunch at the park before transferring back to your hotel for an afternoon at your leisure. Your guide will recommend some optional activities before dinner at the hotel's main restaurant Los Tucanes.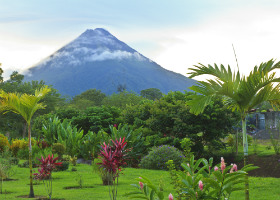 Day
Puerto Caldera (B,L) San Jose National Park / Puerto Caldera, Costa RicaDeparts 06:00 PM
Breakfast at the hotel. Drive back to San José for your city tour with lunch downtown. Visit the National Theater, an icon for Costa Rican people and an architectural jewel representing the progress and the fruits of the labors of their ancestors. Continue on an easy walk to Democracy Square then to the National Park featuring the bronze National Monument of Costa Rica. Your inland adventure ends here, and now it's time to meet your ship at Puerto Caldera.

Puerto Caldera, Costa Rica

Located on the Gulf of Nicoya, the small town of Puerto Caldera is one of Costa Rica's top attractions, perfect for travelers who like more off the beaten path destinations where the native Tico lifestyle can be experienced. It is the gateway to San Jose, Jaco and the big city of Puntarenas, plus Los Suenos and Tortuga Island. Carara National Park is nearby, the rainforest home to crocodiles, over 400 species of birds and is considered the most likely place to see scarlet macaws.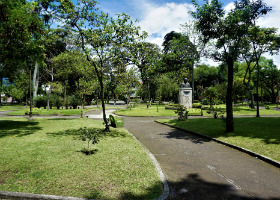 Day
Quepos, Costa RicaArrives 07:00 AM Departs 06:00 PM
The former banana-exporting town of Quepos is your basecamp for a day of rainforest adventure. Take a walk along trails that weave up to waterfalls, or ride horseback to a beautiful jungle pool. A float trip through a mangrove swamp populated by monkeys, crocodiles, egrets, and herons is also available. Or you may choose a nature walk through Manuel Antonio National Park, with its lovely beaches, easy trails, and abundant animal life.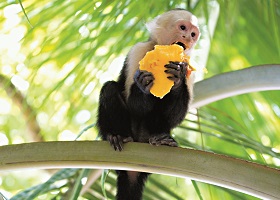 Day
Puerto Jimenez (Golfo Dulce), Costa RicaArrives 08:00 AM Departs 05:00 PM
Picture Jurassic foliage growing down steep hillsides all the way to the waterline, the hoots of monkeys echoing through trees choked by orchids. Golfo Dulce is one of Costa Rica's most biodiverse areas, where both the jungle and the sea brim with life. Explore the canals by kayak in search of javelinas, butterflies, and more bird species than in all of North America.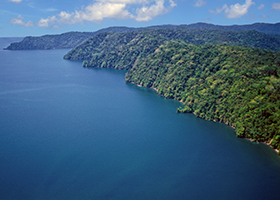 Day
Isla Parida, PanamaArrives 08:00 AM Departs 06:00 PM
Located within a Nature Preserve of 50 islands, and part of Chiriqui Marine National Park lovely Isla Parida boasts magnificent beaches, one of which is over 1,300 feet long. The crystal clear waters stay at 82 degrees year round and are filled with marine life. There are numerous hardwood trees like teak, mahogany, and eucalyptus, and fruit trees like mango, banana and coconut trees. Here you will be treated to Windstar's Signature Beach Party on a secluded beach that faces the Pacific Ocean.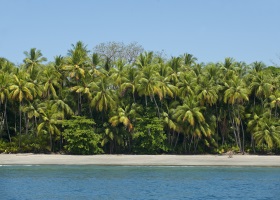 Day
Balboa / Fuerte Amador, PanamaArrives 08:00 AM Departs 05:00 PM
One of the entrances to the Panama Canal on the Pacific side, Balboa/Fuerte Amador was founded in 1519 and is a short distance from Panama City. In 2012 Balboa was ranked #1 in Latin America in the category of world's busiest container ports. Sightseeing highlights include the colonial homes, the Administration Building, the Goethals Memorial, the Prado, and the local handicraft markets of traditional Panamanian crafts.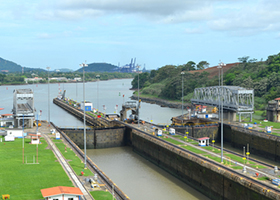 Day
Panama Canal, PanamaArrives 04:00 AM Departs 06:00 PM
At nearly 48 miles long, on your transit through the Panama Canal you will enter three sets of locks that raise and lower the vessel 85 feet between the calm Pacific Ocean and the shimmering waters of the Atlantic. Your voyage features a daylight hours transit with numerous observation vantage points for outside viewing and comfortable indoor air-conditioned lounges. Expert onboard commentary enhances your journey as you watch the day to day workings of this bucket list experience.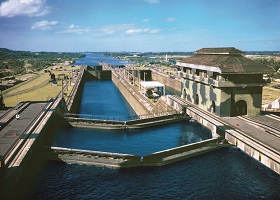 Day
Colon, PanamaArrives 07:00 AM
The town was built as the Caribbean terminus of the Panama Railway and is adjacent to the Caribbean end of the Canal. A trip through the coastal rain forest to the old Spanish fortress of San Lorenzo gives great views of wildlife along the way and the seacoast at the end. Visitors often tour to the Miraflores or Gatun Locks of the canal from here. The Chagres National Park offers visits to the indigenous Embera people, and nearby Portobelo is a UNESCO World Heritage Site whose church holds an unusual statue of Christ depicted as a black man.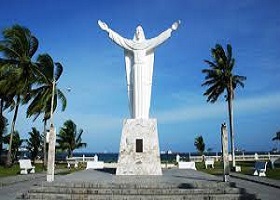 Get Quote
Talk To Expert