11 Days - Lake Como & Adriatic Romance Cruise Tour [Rome to Cernobbio]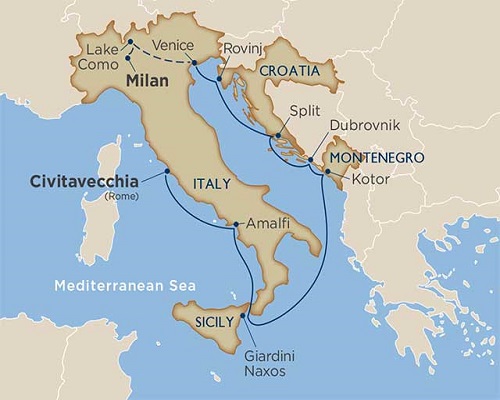 Rome to Cernobbio
Ship: Wind Surf
Departure Date :
Optional tours are available from most ports for an additional charge.
Itinerary
Day
Rome, ItalyDeparts 04:00 PM
"Rome is both a modern bustling city and an ancient open-air museum. You can walk in the footsteps of emperors, have coffee in Renaissance piazzas and see contemporary art all in one afternoon. Your sightseeing time in Rome begins at the nearby port of Civitavecchia, a seaside town with roots that stretch back to the Etruscan era. Take note of the Forte Michelangelo (both Bramante and Michelangelo had a hand in its design), and the lungomare, a lively stretch along the sea with beach clubs, bars and restaurants. Once in the Eternal City you can fill your day with museums, churches, archaeological sites, traditional trattorias, artisan shops and, of course, gelato. The Colosseum and the Vatican Museums are Rome's superstar attractions, but there are plenty of quieter gems to explore. For food lovers there are the markets in Campo de' Fiori or the slightly farther flung Testaccio. The hip neighborhood of Monti, next to the Colosseum, has a vibrant piazza scene and boutique shopping, while the Villa Borghese offers a green oasis with a view towards Saint Peter's Basilica and the masterpiece-filled Galleria Borghese. Although Rome might not have been built in one day, you'll certainly be able to see the highlights and top things to do in Rome in 24 hours. "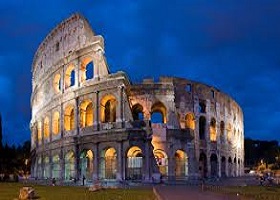 Day
Sorrento, ItalyArrives 08:00 AM Departs 05:00 PM
Sorrento, perched picturesquely on a plateau above the sea with spectacular views over the Bay of Naples, has been a popular tourist destination for almost two centuries. Traditionally the town is one of the favourite resorts of British visitors to Italy, and over the last few decades it has ruled as Italy's leading package-holiday destination for English-speakers. The historic seaside town has learned to live with, and make the most of tourism, and in return it offers a classic 'Mediterranean summer holiday' atmosphere - but without losing all of its Italian character and charm. The key attraction of Sorrento is that it can offer a variety of holiday experiences to suit different visitors, from rural walks through lemon and olive groves to a choice of excursions by land or sea.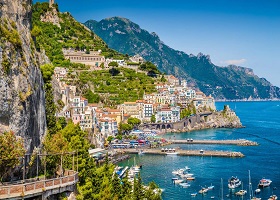 Day
Giardini Naxos, ItalyArrives 12:00 PM Departs 06:00 PM
This harbor on the eastern shore of Sicily near Messina gives us close access to the fabulous Greco-Roman ruins of Taormina, as well as the active volcano Mt. Etna. The temples, streets and large amphitheater of Taormina make it one of Italy's premier ancient sites. Its location overlooking the sea and with the backdrop of snow-capped Etna complete the package and make it among the most famous attractions in the Mediterranean region. Giardini Naxos itself boasts a lovely beach at Lido Europa, and intrepid visitors can climb Mt. Etna to see a volcano close up.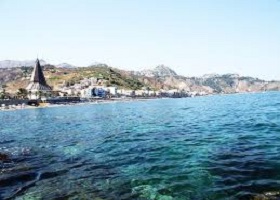 Day
Kotor, MontenegroArrives 09:00 AM Departs 10:00 PM
"Cruising into the Bay of Kotor, you'll be wowed by the dramatic beauty of this coastal Montenegrin town. Dreamy seafront villages are set to a backdrop of mountains plummeting into the Adriatic Sea, while the stone labyrinth of the Old Town is filled with medieval architecture and historic monuments—as well as the narrowest street in the world. The area only became part of Montenegro after WWII, and as such has a very different history to the rest of the country. Kotor escaped Ottoman rule and developed as an important Venetian trading post, before being conquered by the Austro-Hungarian Empire, France and Russia. The city pays tribute to this dynamic history with Venetian gates, Napoleon's theater and Austrian prisons all waiting to be discovered. There's a reason it was named a UNESCO World Heritage Site."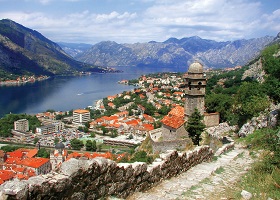 Day
Dubrovnik, CroatiaArrives 08:00 AM Departs 05:00 PM
On the southern end of Croatia's Adriatic coast, Dubrovnik staked its claim to glory during the 450 years it existed as the independent Ragusan Republic, shoulder to shoulder with mighty forces like Venice and the Ottoman Empire. Once a renowned seafaring, shipbuilding and trading center, today it's an enchanting tourist destination. Dubrovnik seduces sightseeing visitors with its polished (and very clean!) limestone streets, theatrical architecture, charming cafés, welcoming restaurants and distinctive shops along scenic side streets. The natural backdrop, much of which is protected, consists of pine and cypress forests and the shimmering Adriatic, dotted with uninhabited islands. Visitors quickly discover that the wider Dubrovnik area is just as striking as its main attraction—the Old Town.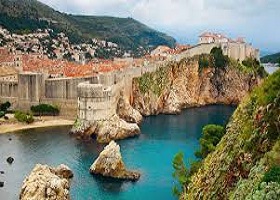 Day
Split, CroatiaArrives 08:00 AM Departs 04:00 PM
"Croatia's second-biggest city oozes small-town charm, thanks to its quaint, narrow streets and the easygoing lifestyle that the Dalmatians are known for. With a busy ferry port, Split is the point of access to the many islands up and down the coast. Much of its old town is within the walls of Diocletian's Palace, a 1,700-year-old UNESCO-listed fortress on the Adriatic seafront. Roman Emperor Diocletian built the palace as his retirement home on the sea and through the centuries many conquerors have taken refuge within its thick walls."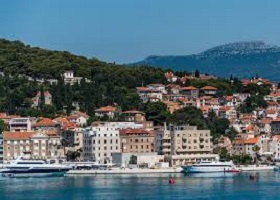 Day
Rovinj, CroatiaArrives 09:00 AM Departs 07:00 PM
Rovinj used to be a tiny island until the channel was filled in during the 18th century, so while the red terracotta roofs now spill inland, the Old Town is tidily self-contained. Hints of Italy are everywhere — in the signs, in the language, in the cuisine — thanks to having spent more than 500 years under Venetian rule. Romantic, quaint, and captivating, it's Istria's most beloved town.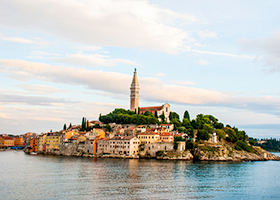 Day
Venice, Italy / Disembark and Head into VeniceArrives 07:00 AM
No other sea approach in the Adriatic raises goose bumps like Venice, where the entire city and its lagoon are a UNESCO World Heritage Site. On your luxurious home-away-from home, you arrive already equipped with a sense of what it's like to live in the city that's neither land nor water. Add your own sigh to the Bridge of Sighs, sip a spritz al bitter as you plot your agenda, and let the water taxis do your navigating unless you don't mind getting lost. Not such a bad prospect, with serendipitous discoveries around every corner.

Disembark the ship and board a motor coach with your private tour guide to the Palace Bonvecchiati 4-star hotel The afternoon is at your leisure before you meet your tour leader for a walking tour of St. Mark's Square and the Rialto area. Try a Spritz, a typical Venetian aperitif. Mingle with locals in a Bacaro (Venetian wine bar) for a farewell dinner of local Venetian food. Spend the night in the luxurious the Palace Bonvecchiati.

(Includes overnight at the Palace Bonvecchiati.)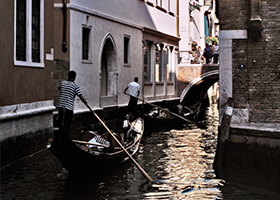 Day
Venice to Lake Como
Breakfast is included at your hotel. Meet your guide at the hotel and set off to for the 90-minute drive to Verona to reach Cantina Mosconi Berta the underground winery for a wine tasting of such wines as Amarone paired with cheese and charcuterie. Then re-board your private vehicle for the 2.5-hour drive to your 5-star hotel at Lake Como. Check-in at Villa d'Este with the evening at your leisure.

(Includes overnight at the Villa d'Este and breakfast at the Palace Bonvecchiati.)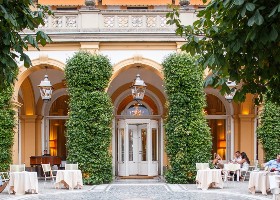 Day
Lake Como Bellagio
Breakfast is included at Villa d'Este. This is your day to enjoy a private boat cruise tour. Meet your guide and board the boat. The first stop will be in Tremezzo to visit the beautiful gardens of Villa Carlotta, one of the many villas on the lake. Tour the gardens then re-board the boat to cross the lake to Bellagio, considered the jewel of the lake. Take a lively walking tour of the town and dine on the local cuisine at a restaurant overlooking the lake. Explore Bellagio on your own and see the Tower of the Arts, Villa Serbelloni Park, San Giacomo Church or Loppia Beach. Return by boat back to Villa d'Este with the evening at your leisure and overnight.

(Includes overnight at the Villa d'Este and breakfast and lunch at Bellagio)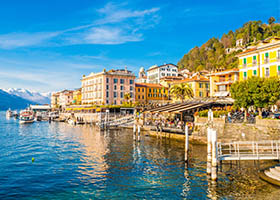 Day
Check out and Transfer
Breakfast is included. Check out and transfer to the airport according to your flight schedule. (Includes breakfast and airport transfer)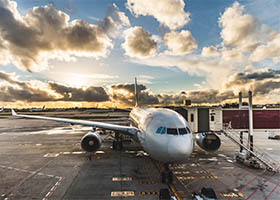 Get Quote
Talk To Expert