8 Days - Spanish Serenade [Lisbon to Barcelona]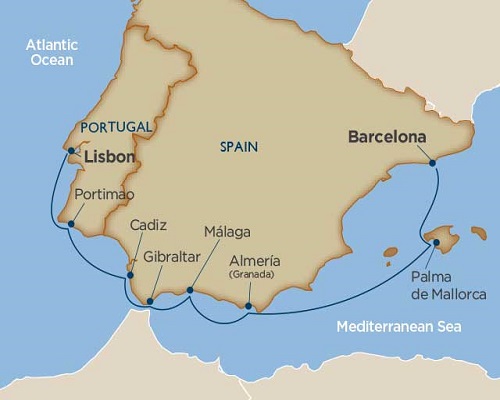 Lisbon to Barcelona
Ship: Star Legend
Departure Date :
Optional tours are available from most ports for an additional charge.
Itinerary
Day
Lisbon, PortugalDeparts 05:00 PM
"Lisbon, the capital of Portugal, is a wealth of sights, tastes and sounds. An ensemble of neighborhoods both old and new, it's a city full of history, culture and tradition. After the devastating earthquake that struck in 1755, reconstruction began and the rebuilt Baixa area quickly became one of the city's busiest districts. From there, you can glance up at São Jorge Castle on one hill while in another direction you'll find Chiado, one of the trendiest and most elegant neighborhoods. The spirit of Lisbon can be encapsulated by the soulful musical genre, fado, which can best be enjoyed in the Alfama, the city's oldest neighborhood. Enter one of the area's old-school taverns and listen to passionate renditions of Fado Vadio, sung by amateurs, often after a round of aguardiente, an anise-flavored liquor."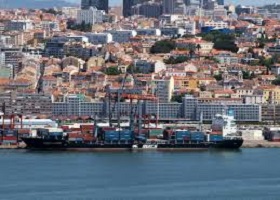 Day
Portimao, PortugalArrives 09:00 AM Departs 05:00 PM
With a population of almost 40,000, Portimão in Portugal's Algarve region, is one of the country's largest coastal towns. Its perennially sunny climate, beautiful beaches and historic buildings make it a tourist destination in its own right. The Bio-park Monchique is famous for its abundance of flora and spectacular views. Off shore, fishing and dolphin spotting make for exciting pastimes.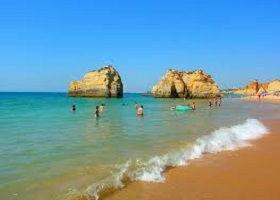 Day
Cadiz (Seville), SpainArrives 07:00 AM Departs 10:00 PM
"Hanging off the southwestern edge of Spain, Cádiz is one of Andalucía's regional capitals and a place bursting with personality. Europe's oldest continually inhabited city, with a history stretching back 3,000 years, has fallen on hard times in recent years, but a combination of pride, good humor and stoicism keeps it on an even keel. The famous Carnival, one of Spain's most important in the genre, is a thrilling fiesta into which Cádiz pours all its energy and ingenuity. The city's fond nickname, la tacita de plata (""little silver cup""), alludes to its curious geography—it juts out on a long peninsula into a sheltered bay. Old town Cádiz is a warren of cobbled streets where the houses, painted white or dusty ochre, have the weather-beaten look of a place subjected to centuries of wind and salt. This ancient city has one good example of everything that matters: a great food market, a theater (the Teatro Falla, a grand Art Nouveau Moorish gem), a gorgeous cathedral, impressive fortifications and a beach—the picturesque and famous La Caleta. "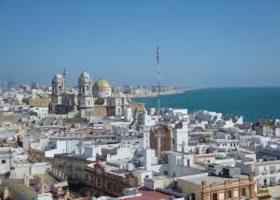 Day
Gibraltar, British TerritoryArrives 09:00 AM Departs 09:00 PM
"Strategically located at the southern tip of Europe, facing Africa, Gibraltar offers a fascinating mix of cultures. With a history that includes Moorish, Spanish, Italian, Portuguese and English influences (among others), this tiny, 6.7-square-kilometer British Overseas Territory is most famous for the giant Jurassic limestone rock soaring above the territory's main commercial and residential areas. The Rock contains an abundance of history (military and otherwise), not to mention significant flora and fauna, and a labyrinth of caves and tunnels. Venture into Gibraltar's densely populated streets for Spanish, British, Middle Eastern and Italian cuisine, as well as tax-free shopping on everything from luxury brands to handmade arts and crafts and artisanal edibles. Browsing and snacking around town is the perfect chance to hear Yanito, the singsong Spanish-English hybrid spoken here. There are also historic and holy places in Europa Point, and the Museum of Gibraltar provides an opportunity to learn about the region's history and prehistory, as well as the migration habits of its birds and marine life. "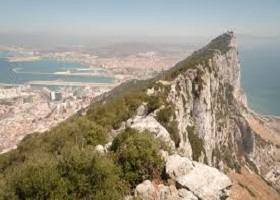 Day
Malaga, SpainArrives 08:00 AM Departs 09:00 PM
While Málaga was long considered just a stopover on the way to southern Spain's Costa del Sol beach resorts, in recent years a buzz has developed around the Andalucian city. There is a brand-new $100 million port promenade filled with restaurants and a bold new branch of Paris's Centre Pompidou built in the form of a colorful glass cube. A handful of other major new museums include one devoted to one of the city's most famous sons, Pablo Picasso—it's also the hometown of another famous Spanish export, actor Antonio Banderas. Where once many buildings were dilapidated, an entire swath of the historic center is now pedestrianized and filled with shoppers, diners and street musicians. Tapas bars with outdoor tables line the old town's Calle Strachan, while all over Málaga a boom in fine dining is taking place. The city makes a fine base for day trips to many of Andalucía's most famous sites. Unlike many southern Spanish cities, Málaga doesn't really shut down over the hot summer months; its waterfront location helps keep temperatures from soaring to uncomfortable heights. The 10-day summer Feria is becoming more popular each year, drawing visitors with its calendar of bullfights as well as dancing and drinking—activities the city's residents enjoy before and after the Feria too.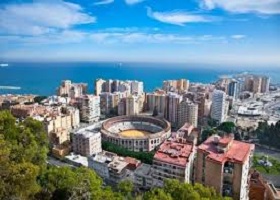 Day
Almeria (Granada),SpainArrives 08:00 AM Departs 10:00 PM
Founded by the caliph of Cordoba, this Andalucian city on Spain's southeast coast is a reminder of the region's Muslim history. The Alcazaba, a massive fort, dominates the city and affords amazing views. Also worth experiencing are the cathedral and the Almeria Museum. East of the city is the rugged, desolate Cabo de Gata-Nijar coast, a protected area. To the west is the resort area of Roquetas de Mar, featuring vast beaches.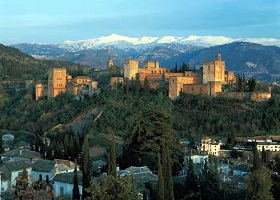 Day
Palma de Mallorca, SpainArrives 08:00 AM Departs 05:00 PM
"Palma de Mallorca, the largest city and capital of its own island as well as the entire Balearic archipelago, is one of Spain's most delightful towns. Despite its proximity to tourist beaches where millions of Europeans take summer vacation, Palma maintains the traditional rhythm of a Mediterranean city: busy food markets, open-air terrazas for lazing and grazing and the Passeig del Born, perfect for an evening paseo (stroll) under its canopy of trees. But the city is also, increasingly, a hub of contemporary culture and cuisine—witness the old town's buzzing gallery scene, and cutting-edge restaurants like Simply Fosh and Aromata. If location is all, Palma's peerless setting, at the center of a glorious sweeping bay, counts for a great deal. The city has its own beaches and a working harbor where a state-of-the-art new marina, Moll Vell, has brought back locals to stroll and gawk at the giant yachts. "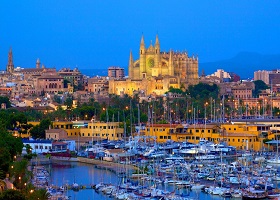 Day
Barcelona, SpainArrives 08:00 AM
On the northeast coast of Spain, overlooking the Mediterranean, Barcelona is a vibrant port city, packed with centuries of iconic art and architecture—Gaudí and Picasso both called it home—and lined with sunny white-sand beaches. Explore the Catalan capital's tourist attractions and historic neighborhoods, Modernisme and world-renowned art museums, galleries and local crafts shops—some of which are centuries old and stock traditional Catalan wares. After you see the sights, there are lively tapas bars around every corner where you can stop for a drink, a café amb llet (Catalan for espresso with steamed milk) or a snack, no matter the hour. Green spaces for picnics, long walks and respite from the hustle and bustle are scattered throughout Barcelona's attractions: There's Gaudí's mosaic-decorated park, a neoclassical maze at the Laberint d'Horta, as well as plenty of high places (mountains, monuments and edifices) where sightseeing visitors can take in the view. A short trip from Barcelona by car or train, luxury outlets, cava wineries, a mountaintop abbey and the sandy beaches of the Mediterranean coast await.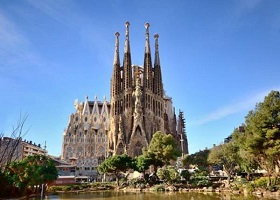 Get Quote
Talk To Expert