12 Days - Kyoto & the Zen of Japan Cruise Tour [Tokyo to Kobe]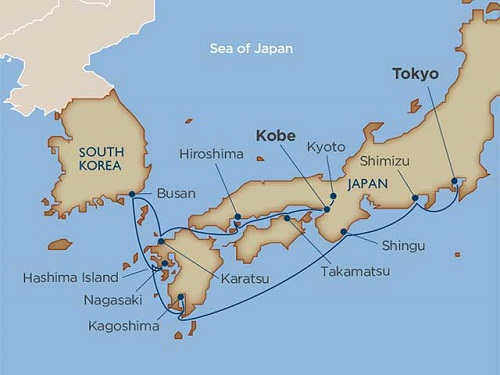 Tokyo to Kobe
Ship: Star Breeze
Departure Date :
Optional tours are available from most ports for an additional charge.
Itinerary
Day
Tokyo, JapanDeparts 07:00 PM
There are so many interesting things about Tokyo it is not possible to list them here and you will want to plan to extend your stay. This is the place for excellent and unlimited shopping choices and from where new fashion trends seem to spring. It offers excellent cuisine and has earned mention on the UNESCO Intangible Cultural Heritage List. Even though Tokyo's neon-lit streets make it seem modernistic, it also prides itself on retaining its shogun past, carrying on sumo tournaments and kabuki productions. Tokyo is also committed to providing green spaces in the city or on the outskirts, quickly reached by train.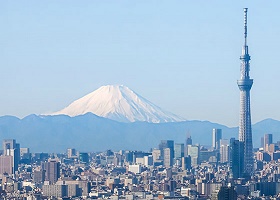 Day
Shimizu, JapanArrives 08:00 AM Departs 05:00 PM
Shimizu's rich cultural heritage is rooted in the surrounding Shizuoka area's history as the home of Tokugawa Ieyasu, the founder of the Edo shogunate, following his retirement from government. A collection of historic buildings in the vicinity, such as Kunozan Toshogu Shrine (designated a National Treasure by the Japanese government), Sumpu Castle Park, and Shizuoka Sengen Shrine, depict a fascinating portrait of the life and accomplishments of this major historical figure. The Shizuoka area's ancient culture is available not only for observation but for hands-on experience as well. At Sumpu Takumi-shuku, visitors can try their hand at making traditional Suruga handicrafts characteristic of the Shizuoka region, such as bamboo works, dyes, and lacquerware.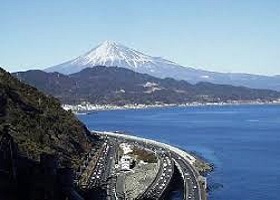 Day
Shingu, JapanArrives 08:00 AM Departs 05:00 PM
For over 1,000 years pilgrims have traveled to the Kumano Region to pray at the three Sacred Kumano Shrines. In Shingu you can see the Hayatama Shrine and the Kamikura Shrine. Both of these shrines are part of the UNESCO World Heritage Site known as Sacred Sites of Pilgrimage Routes in the Kii Mountain Range. The Kamikura Shrine sits on Mount Kamikurayama and requires climbing 538 steps to reach it.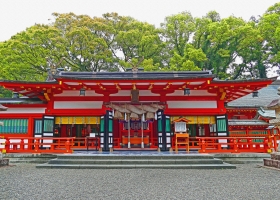 Day
Karatsu, JapanArrives 08:00 AM Departs 06:00 PM
Located on the island of Kyushu, Karatsu is one of the closest Japanese cities to the Korean Peninsula. Karatsu Castle is the main attraction here. Built in 1608, it houses a museum of the castle's history and Karatsu ceramics. Karatsu is also known for its pottery which can be viewed at the Karatsu-yaki Pottery Gallery. Also worth visiting is the Karatsu Hikiyama Exhibition Hall which displays the 14 floats used in the annual Karatsu Kunchi Festival in November.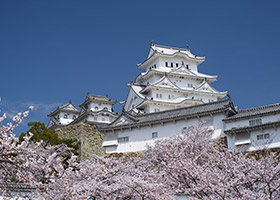 Day
Busan, South KoreaArrives 07:00 AM Departs 04:00 PM
The second largest city in South Korea is a popular leisure destination due to the nearby hot springs. It is home to many famous beaches that lure visitors from around the world and the UNESCO site of Gyeongju an outdoor museum that was once the capital of the Silla Kingdom and holds many architectural points of interest including ornate temples. Also of interest is South Korea's largest temple, Tongdosa Temple, renowned for having no outdoor statues.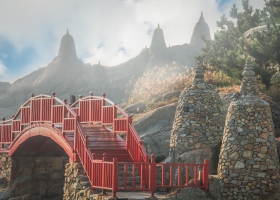 Day
Hashima Island / Nagasaki, JapanArrives 06:00 AM Departs 07:30 AM / Arrives 10:00 AM Departs 07:00 PM
Cruise around the island of Hashima, abandoned over 50 years ago when the coal mining that flourished there suddenly ran out. The mining company shut the mine down and the island has been a ghost town ever since. (Visibility depends on weather conditions.)

Nagasaki, Japan

Situated in the northwest of Kyushu, the third-largest island in Japan, Nagasaki is one of the country's most cosmopolitan port cities, with a decent tourism infrastructure, a fascinating past that stretches back to the early 7th century and a picturesque harbor that's been an active port since the 16th century. Home to around 500,000 residents, the city is a buzzy yet relaxed place with abundant services, shops and restaurants as well as several cultural and historic attractions that are easily explored on foot and via public transportation. Check out the Nagasaki Peace Park and Atomic Bomb Museum, which outline the horrific bombing of the city during World War II while making a poignant pledge for world peace. Foodies will enjoy the wide variety of tastes to be found in Chinatown and the Shianbashi Gourmet Street. If you are visiting with children, the Huis Ten Bosch theme park—modeled on a medieval Dutch town—makes for a fun diversion. Look out, too, for popular annual events like October's Kunchi Festival and the wintertime Nagasaki Lantern Festival.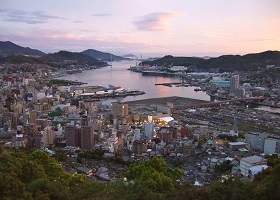 Day
Moji, JapanArrives 10:00 AM Departs 08:00 PM
Looking at the Moji skyline the Mojiko Retro Observation Tower won't be missed. At 338 feet (103 meters) it provides impressive views of this attractive town. Many of the buildings are Western-style and a walk along the waterfront will reveal some remarkably well-preserved structures. This is also home to the TOTO Museum of Toilets, unique to Japan and the only one of its kind in the world.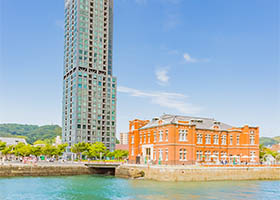 Day
Hiroshima, JapanArrives 08:00 AM Departs 08:00 PM
"Hiroshima means "wide island" in Japanese. The city was established in the 16th Century on Japan's largest island, Honshu, and grew into an important shipping center and prefecture capital, boasting a fine castle. Although it was an important city in Japan throughout the imperial period, its reputation in the greater world was burned into history when it became to target of the first atomic bombing of a civilian target in August of 1945.

Within a few years, Hiroshima had begun to rebuild, and the city became the focus of an international movement to eliminate nuclear weapons from future wars. Relics of its past such as the impressive Hiroshima Castle and the tranquil Shukkeien Garden were rebuilt, and the city undertook the construction of a Memorial Peace Park, which today attracts visitors from around the world. The park, which holds a museum and a memorial "Atomic Dome" constructed on the closest remaining building to the blast site, is a moving and impactful place of pilgrimage in this re-born City of Peace. One notable feature is a colorful memorial to Sadako Sasaki, a young woman whose dying wishes for world peace were recounted in the story A Thousand Paper Cranes."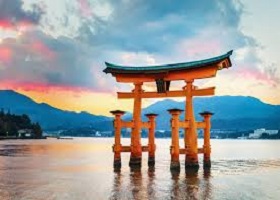 Day
Takamatsu, JapanArrives 09:00 AM Departs 07:00 PM
Takamatsu is located on Shikoku, the smallest of Japan's four main islands, in the Kagawa Prefecture on the Seto Inland Sea. During the Edo period, it was famous for its seaside castle, one of the few with a moat utilizing seawater. The castle was destroyed during the Meiji period, and today the so-called Sunport waterfront project has substituted the Symbol Tower, Takamatsu's tallest building, for the castle tower that once graced its flag. Long an important port for Japan, Takamatsu was nearly destroyed in 1945 by Allied incendiary bombing. A portion of the famous castle, including foundations and part of the wall, still strand on the city-center park, and there are plans to reconstruct more of it. The Ritsurin Koen garden, first built in the Edo period, survives, and makes a welcome oasis in the city, with a folk museum, rest houses and a tranquil tearoom among lakes, hills and groves of cherry trees that bloom in the spring and flame into color in the autumn. The Shikoku Mura is an open-air museum with traditional buildings gathered from all over Shikoku on display. The Yashima area boasts an Isamu Noguchi Museum dedicated to the late designer, artist and sculptor, with several traditional buildings he relocated and used as work spaces and galleries, along with many finished and unfinished sculptures. There is also a lovely Yashima Temple halfway up the mountain, and at the top, an observation deck with breathtaking views of the city and port.
Day
Kobe, JapanArrives 08:00 AM / Nara and Osaka, Japan
"One of the greatest things about Japan is its attention to detail. Nothing is too small for consideration. Nailheads on temple walkways are hidden by inlaid metal covers. If the train schedule says the train arrives at 11:05, it will not be there at 11:04; and if it's more than 10 minutes late, you can get the rail line to give you an excuse form to present back at the office, explaining your tardiness. Shops sell combs and hairpins made with the same patterns and in the same way as 500 years ago.

So maybe this attention to detail explains what happened in 20th-century Kobe. Some farmer was looking at his cow, thinking, "What possibilities of perfection am I missing?" Cows were still a new thing; they were banned as food almost until WWII, so cow rules were in flux when this farmer began massaging his herd with sake. The cows got pleasantly drunk on local beer and listened to classical music—and in return for the pampering, they produced, and continue to produce, heavily marbled, melt-in-the-mouth cuts of meat that can easily sell for a hundred bucks a dish. Like everything else in town, Kobe beef is all in the details.

Among the Japanese, Kobe is considered exotic: "If you can't go to Paris, go to Kobe." And it does make a nice break from Osaka's relentless pace. Order a steak, find a window booth and watch the details. "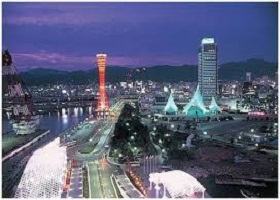 Day
Kyoto, JapanFull Day Tour / Transfer to the Osaka Airport
Kyoto is famous for its numerous Buddhist temples, gardens, imperial Shinto shrines and traditional wooden houses. It is also known for formal traditions like kaiseki dining (multiple courses of precise dishes) and geisha entertainers.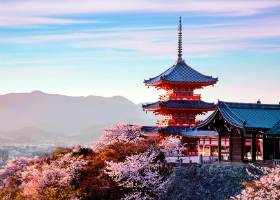 Get Quote
Talk To Expert