7 Days - Windward Ways & Tobago Cays [Bridgetown to Oranjestad]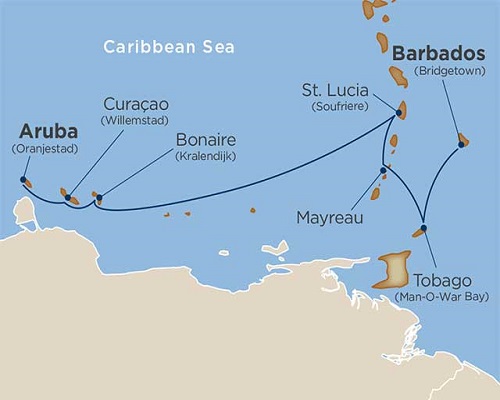 Bridgetown to Oranjestad
Ship: Star Legend / Star Pride
Departure Date : Jan 20 2024 | Dec 14 2024 | Jan 11 2025 | Feb 22 2025
Optional tours are available from most ports for an additional charge.
Itinerary
Day
Bridgetown, BarbadosDeparts 06:00 PM
"Barbadians, or Bajans in local parlance, consider their island nation the most British of the Caribbean: Queen Elizabeth II is still head of state, and English products are stocked in many of its stores and restaurants. Barbados is known as the birthplace of international pop star Rihanna, but it has also produced some of the biggest Caribbean calypso and soca music stars. The summer Crop Over festival is a huge carnival event. With live music and crafts for sale, the popular Friday fish fry at Oistins Bay is a fun place to mingle with the locals. Centered around a waterway called the Careenage and its handsome Chamberlain Bridge, the historic center of Bridgetown, the country's capital, was granted UNESCO World Heritage status in 2011 for its wealth of British colonial architecture dating from the 17th, 18th and 19th centuries. Among the famous figures who visited Bridgetown when it was at its peak was none other than George Washington, who spent two months in 1751 in a house that still stands today, on his only trip abroad."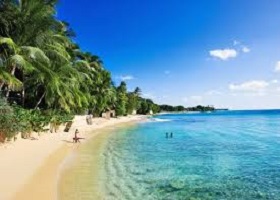 Day
Man-O-War Bay, Charlotteville, TobagoArrives 08:00 AM Departs 05:00 PM
Listen for the sound of a conch announcing the return of the fishing boats. Bobbing next to us are flotillas of pelicans – hinting at the excellent snorkeling waiting for you here and in neighboring Pirate's Bay.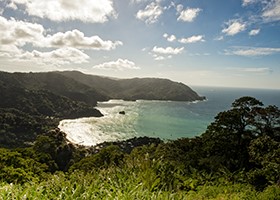 Day
Mayreau, St. Vincent GrenadinesArrives 08:00 AM Departs 06:00 PM
With fewer than 300 inhabitants and miles of secluded beaches, it's easy to feel as if you're on your own private island. Saline Bay is a delightful anchorage that separates the Caribbean from the Atlantic - and a perfect place to play with some of the toys from the Watersports Platform.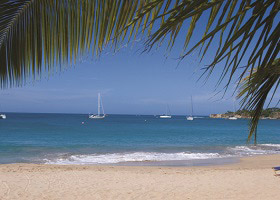 Day
Soufriere, St. LuciaArrives 08:00 AM Departs 04:00 PM
Nestled in the shadows of the UNESCO Pitons, Soufriere represents the heart and soul of St. Lucia. The tiny town center is full of street vendors and stores and some of the best resorts on the island can be found here. Nearby are secluded waterfalls and the waters here boast some of the best diving around. Sights to see include the Edmund Rainforest Trail, fond Doux Holiday plantation, Robot Estate and the Gros Piton Nature Trail.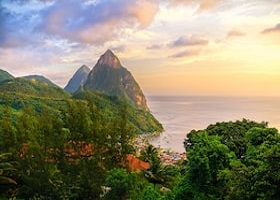 Day
Kralendijk, BonaireArrives 01:00 PM Departs 10:00 PM
Almost as soon as you pull into the port of Kralendijk, you'll realize it's one of the most laid-back landings around. Though there are some colorful streets to stroll nearby—remnants (mostly) of Bonaire's Dutch-colonial era—even the busiest lack the bustle of other Caribbean capitals. Which is a good thing. The comparative sleepiness helps maintain the island's chief attributes: legendarily pristine wilderness, both above and below the surface; mangroves full of baby fish; and salt flats full of flamingos. And reefs full of . . . everything. Nature's cup overfloweth here. And, by the way, so will yours (have the cactus liqueur even if you try no other local beverage). There's also an embarrassment of cultural riches, thanks to the layers of Amerindian, Spanish, African, Dutch and British influences on the island. In fact, you'll hear traces of the languages of all of the above (plus some French and Portuguese) during any given conversation in Papiamento, the creole language spoken throughout the Netherlands Antilles. You'll find you can get by just fine with a few key phrases: por fabor, danki and bon dia—all of which mean exactly what you think they do.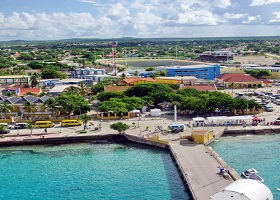 Day
Willemstad, CuracaoArrives 08:00 AM Departs 06:00 PM
"The capital of Curaçao, Willemstad, is almost as old as a more famous Dutch settlement—it was founded in 1634, just 10 years after New Amsterdam, later called New York. But while the Dutch control of New Amsterdam was relatively brief, Curaçao remains a part of the Netherlands to this day. Its historic center is a unique mixture of Dutch architecture and Caribbean pastels, its gabled row houses overlooking Sint Anna Bay, a waterway dividing the city in two and connecting the Caribbean to the protected Schottegat Bay. The entire historic center of Willemstad has been recognized as a UNESCO World Heritage Site. While Willemstad's legendary days of yore can be explored at institutions like the Kura Hulanda and Curaçao Maritime Museum, this is a vibrant, living city too. Highlights of this multicultural melting pot might include a stop at its floating market and a visit to a curaçao distillery to taste the famous local liqueur. Natural wonders await as well: Some of the Caribbean's most stunning diving and snorkeling spots are here. Finally, a meal in Willemstad will let you experience the diversity of the island through the surprising flavors of its cuisine, which reflects European, Caribbean and Latin American influences. "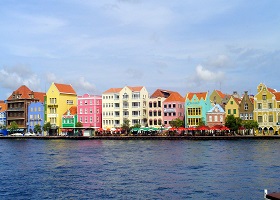 Day
Oranjestad, ArubaArrives 06:00 AM
"Located off the coast of Venezuela, the windswept Dutch island of Aruba is otherworldly. Here, the beaches are spectacularly pristine, the waters are romantically restless, the island interior is lunar-like and filled with cacti, and the trees are—quite famously—bent in the wind. The island's consistent trade winds are part of the destination's allure: They keep the humidity, rain and hurricanes common in much of the Caribbean during its off-season at bay. The main port and capital city, Oranjestad, is a maze of Dutch-colonial architecture painted in a palette of Caribbean pastels. There are some historic sites of note and myriad shops, from boutiques to megastores, selling all sorts of keepsakes, with jewelry and gold being popular items—in fact, gold was mined here in the 19th century. In Oranjestad and along the beaches you'll also find a treasure trove of excellent seafood restaurants, while farther afield are lighthouses, gold mine ruins and natural wonders that reflect the rugged appeal of Aruba. "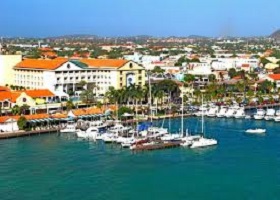 Get Quote
Talk To Expert