14 Days - Uncommon Indonesia [Benoa to Singapore]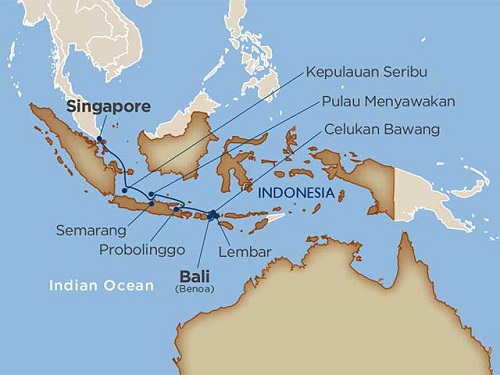 Benoa to Singapore
Ship: Wind Spirit
Departure Date :
Optional tours are available from most ports for an additional charge.
Itinerary
Day
Benoa (Denpasar), Bali, IndonesiaDepart 05:00 PM
Located on the southeastern coast of Bali is the small village of Tanjung Benoa. Still considered a fishing village, Benoa has developed over the past 20 years into a major player in the tourism sector. The calm waters and the beautiful white sand beaches have made Benoa the prime water sport area of Bali. Being a peninsula that is only accessible from one direction, Tanjung Benoa is still relatively quiet with a more relaxed feeling.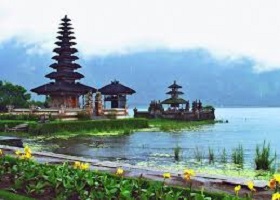 Day
Lembar, Lombok, IndonesiaArrive 06:00 AM Depart 05:00 PM
"While the distance between the Indonesian islands of Bali and Lombok is small, 35 kilometers (22 miles), the islands are worlds apart. The former is lush and green, the latter drier and scrubbier. Bali is mostly Hindu; Lombok, like most of Indonesia, is predominantly Muslim. Even the animals and birds are different on the two islands, as they sit on opposite sides of the Wallace Line (discovered by the 19th-century naturalist Alfred Russel Wallace, it marks the boundary between areas populated by Asian and Australian fauna). For the traveler, an essential difference is that while Bali welcomes thousands of visitors each year, Lombok remains largely under the radar, offering a look at Indonesian life on an island without large resorts or tour buses.

Mataram, Lombok's largest town, has a few sights, the most notable being the temple-mosque complex of Pura Lingsar. Dominating the entire island is Indonesia's second-largest volcano, Gunung Rinjani, and even if you don't attempt to reach its summit, a walk along its trails offers glimpses of birds and monkeys and views of the entire island. Finally, the beautiful Gili Islands, even smaller and more off the beaten path than Lombok itself, are worth the journey to reach them. "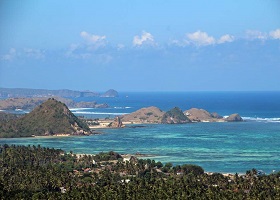 Day
Celukan Bawang, Bali, IndonesiaArrive 08:00 AM Depart 02:00 PM
In this important port, you may see numbers of the famous high-prowed Bugis schooners, the traditional trading vessels of the archipelago. They carry timber, cement and other goods from Sumatra and Kalimantan. Relax on the black sand Lovina beach, or visit Singaraja, Bali's second-largest city, which retains the feel of a colonial capital.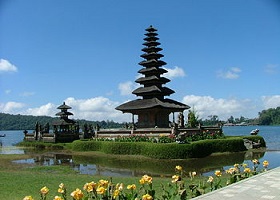 Day
Probolinggo, Java, IndonesiaArrive 06:00 AM Depart 03:00 PM
Probolinggo is a pretty port town on the north coast of East Java that's home to the ethnic minority Tengger people. The city garners mainly tourist attention as a jumping-off point for visiting Mount Bromo. One of Indonesia's most spectacular volcanoes, Bromo is best viewed at sunrise but makes a strong impression any time of the day. While the top has blown off, the 2,329-meter-high (7,641-foot) peak contains a cone that's still active. And views of the surrounding volcanoes from here are just as thrilling. If you opt to stick around Probolinggo, a town of roughly 217,000 people, you'll be pleasantly surprised. There are none of the stifling crowds and pollution of Jakarta here. A pedicab tour is a fun way to get around to see the city's Chinese temple, pleasant city square, churches and museum. But the main sites are just as easily visited on foot. There are beautiful beaches, temples, waterfalls and bamboo forests to see in and around Probolinggo. And just seven kilometers (four miles) from town at Bentar Indah Beach, you can go for a swim or stroll along the white sand. Before leaving, shop for a typical batik from the region to take home as a souvenir.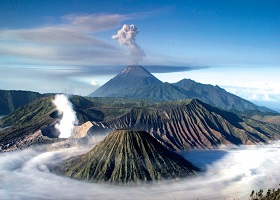 Day
Pulau Menyawakan, IndonesiaArrive 09:00 AM Depart 06:00 PM
Nature lovers and outdoor enthusiasts will thrill at this remote location where only small ships and ferries go unless you charter a flight. This lovely area boasts white-sand beaches, rainforest, coastal mangroves and a biodiverse reef system that welcomes snorkelers or divers with 35 types of corals and sponges on what will feel like your own private island.
Day
Semarang, Java, IndonesiaArrive 07:00 AM Depart 09:00 PM
For most visitors, the biggest thrill about arriving in Semarang is the chance to take a day trip to Borobudur, the Buddhist temple and UNESCO World Heritage Site that dates to the 8th and 9th centuries. But there's plenty to keep you busy in and around the city itself, too. Home to over 1 million people, Semarang occupies a strategic location on Java's north coast and is among Southeast Asia's most interesting ports. The city's colorful patchwork of colonial architecture, Chinese temples and striking mosques tells the story of the diverse cultures that wrote Semarang's history and speaks of its present, too. Spend some time strolling the atmospheric Outstadt, the old Dutch quarter. Lined with old Dutch warehouses and town houses, this neighborhood once held its own with Surabaya and Jakarta as one of Dutch Indonesia's most vital trading ports. Today, almost a third of the city's population is Chinese; you'll find some excellent Chinese food around town as well as important historical sites like Gedung Batu—the city's oldest Chinese temple complex on the outskirts of town—which is well worth a visit.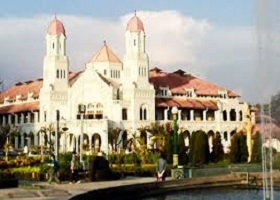 Day
KrakatoaArrive 03:00 AM Depart 09:00 PM
Get up close to well-known Krakatoa. The Krakatoa Volcano eruption of 1883 was about 10 times more explosive than the 1980 eruption of Mount St. Helens. Prior to the eruption there were 3 linked volcanic peaks. With over 70% of the island destroyed, Krakatoa and the two nearby islands of Lang and Verlatan are the remnants of this eruption. The still-active volcano has periodic small eruptions.
Day
Pantara Island, Kepulauan Seribu, IndonesiaArrive 08:00 AM Depart 04:00 PM
Pantara Island is a small remote port in The Thousand Islands chain. Its secluded location is perfect for beach time on the pure white-sand surrounded by emerald-green waters. Or take a Zodiac tour to cruise around this beautiful, unspoiled tropical paradise.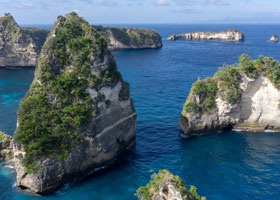 Day
Pulau Banda, IndonesiaArrive 07:00 AM Depart 04:00 PM
The islands that make up the Banda Archipelago are perfect for people who want great snorkeling and diving, remote locations away from touristy places and the opportunity to try delicious local cuisine. Up until the mid-19th century these islands were the world's only source of nutmeg and mace. The main attractions here now is 17th century Fort Belgica and the Gunung Api Volcano.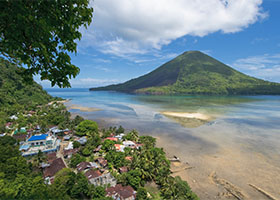 Day
SingaporeArrive 03:00 PM
"City-states are rare in the present day—and none are quite like Singapore. In the 20th century, the Southeast Asian nation hurtled itself into the modern world, and it continues to expand its state-of-the-art transportation system and build its edgy skyline. Yet Singapore's urban plan wisely maintained its intimate neighborhoods, many with streets lined with colorful shophouses (a type of building unique to parts of Asia, with businesses located on their ground floors and residences above). Add the city's mix of ethnic groups—mainly Malays, Chinese and Indians—and you get a vibrant cultural scene that attracts a cosmopolitan, international community.

Singapore's food scene—which is arguably the world's most dynamic and runs the gamut from beloved street hawkers to Michelin-starred venues—would merit a trip alone, as would its never-ending shopping options. But the city is also packed with world-class museums, many designed by celebrated architects, and it hosts many major international events, such as the Formula One Grand Prix. Yet only about half of the 720-square-kilometer (278-square-mile) island is developed, which leaves plenty of room for parks and open spaces such as the Bukit Timah Nature Reserve, where an old-growth forest still thrives. "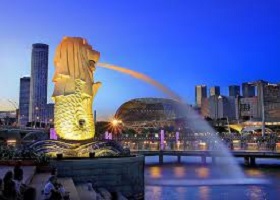 Get Quote
Talk To Expert