7 Days - Enchanting Greece & the Amalfi Coast [Rome to Athens, Greece]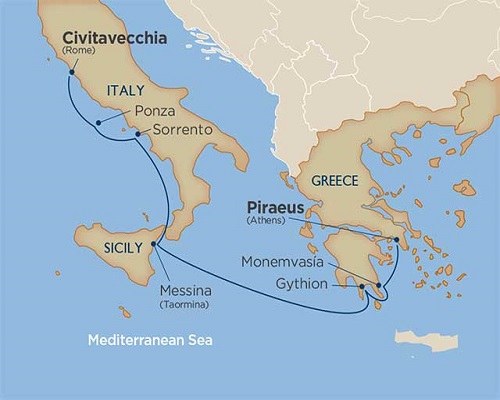 Rome to Athens, Greece
Ship: Wind Star / Wind Spirit
Departure Date : Apr 27 2024 | May 05 2024
Optional tours are available from most ports for an additional charge.
Itinerary
Day
Rome, ItalyDeparts 05:00 PM
"Rome is both a modern bustling city and an ancient open-air museum. You can walk in the footsteps of emperors, have coffee in Renaissance piazzas and see contemporary art all in one afternoon. Your sightseeing time in Rome begins at the nearby port of Civitavecchia, a seaside town with roots that stretch back to the Etruscan era. Take note of the Forte Michelangelo (both Bramante and Michelangelo had a hand in its design), and the lungomare, a lively stretch along the sea with beach clubs, bars and restaurants. Once in the Eternal City you can fill your day with museums, churches, archaeological sites, traditional trattorias, artisan shops and, of course, gelato. The Colosseum and the Vatican Museums are Rome's superstar attractions, but there are plenty of quieter gems to explore. For food lovers there are the markets in Campo de' Fiori or the slightly farther flung Testaccio. The hip neighborhood of Monti, next to the Colosseum, has a vibrant piazza scene and boutique shopping, while the Villa Borghese offers a green oasis with a view towards Saint Peter's Basilica and the masterpiece-filled Galleria Borghese. Although Rome might not have been built in one day, you'll certainly be able to see the highlights and top things to do in Rome in 24 hours. "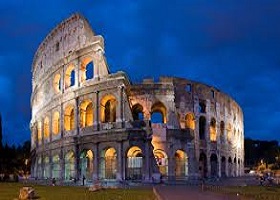 Day
Ponza, ItalyArrives 08:00 AM Departs 06:00 PM
Ponza is seen by many of its visitors as a less-spoiled version of Capri, and is frequented by the rich and famous who like to keep a lower profile on holiday, as well as by hordes of young Romans who visit for the weekend in summer. The island's main settlements are Ponza Porto, around the harbour, and Le Forna, to the north, with the island's main appeal is its landscape, shoreline and atmosphere.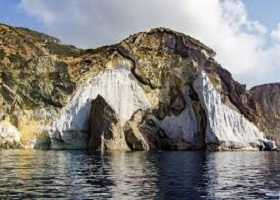 Day
Sorrento, ItalyArrives 07:00 AM Departs 05:00 PM
Sorrento, perched picturesquely on a plateau above the sea with spectacular views over the Bay of Naples, has been a popular tourist destination for almost two centuries. Traditionally the town is one of the favourite resorts of British visitors to Italy, and over the last few decades it has ruled as Italy's leading package-holiday destination for English-speakers. The historic seaside town has learned to live with, and make the most of tourism, and in return it offers a classic 'Mediterranean summer holiday' atmosphere - but without losing all of its Italian character and charm. The key attraction of Sorrento is that it can offer a variety of holiday experiences to suit different visitors, from rural walks through lemon and olive groves to a choice of excursions by land or sea.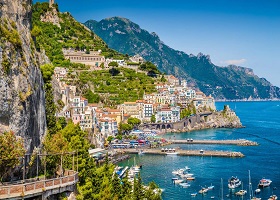 Day
Messina (Taormina), ItalyArrives 12:00 AM Departs 05:00 PM
Gateway to Mt. Etna, the awe-inspiring and still-active volcano, the seaport of Messina is the third-largest city in Sicily. Known for its fine cathedral, museums and for its rich Sicilian wines, Messina and the surrounding area was also the location for much of the Godfather series of films. An afternoon or a day in Messina can include a drive up to the windswept side of Mt. Etna (hold on to your hat—it is seriously windy here!) or to the shop-lined streets of Taormina. Many stores sell Sicilian ceramics, with colorful hues painted on volcanic earthen pottery, pieces created in the same way that they have been for centuries. Look also for jewelry and crafts made from beautiful black volcanic glass, collected from the slopes of Etna.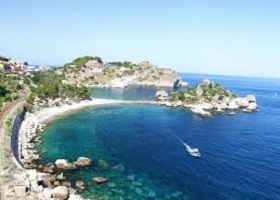 Day
Gythion, GreeceArrives 11:00 AM Departs 10:00 PM
Gythion, the small port town for Sparta, edges its way up the hillside, which surrounds the harbor. According to Homer, Paris and Helen spent their first night together here, on a tiny islet in the bay. To commemorate the occasion, Paris erected a shrine to Aphrodite, goddess of love, only to have it torn down by the vengeful Menelaus after he recaptured Helen. In its place Menelaus erected statues honoring Praxidica (Punishment) and Themis (Justice). Not far away, at the tip of the Peloponnese, lies the Mani, a distinctive area unlike anything else in Greece. This desolate region of underground lakes and rivers and windswept landscapes is strangely beautiful. To the north of Gythion lie Sparta and Mystra, well worth a visit.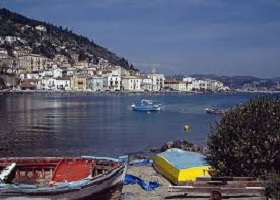 Day
Monemvasia, GreeceArrives 08:00 AM Departs 05:00 PM
Monemvasia was once on the Peloponnese mainland. Then an earthquake turned it into an island. It is now joined to the mainland by a narrow causeway that limits access, originally for reasons of defense. The tall, flat isle is completely honeycombed with nooks and grottoes, narrow alleys and rock-carved rooms. Clearly it was a formidable redoubt in times of attack, and earned its nickname the Gibraltar of the East. The upper town, long uninhabited, has narrow pathways leading to the Byzantine Aghia Sophia church, and remains of the medieval fortress and walls. In the lower town, look for the bell tower that leads you to Elkomenos Square, with its namesake medieval Elkomenos Christos church and a small museum.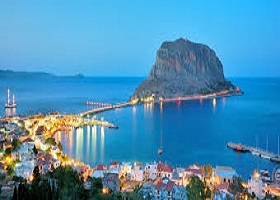 Day
Athens, GreeceArrives 07:00 AM
Athens is the historical capital of Europe, with a long history, dating from the first settlement in the Neolithic age. In the 5th Century BC (the "Golden Age of Pericles") – the culmination of Athens' long, fascinating history – the city's values and civilization acquired a universal significance. Over the years, a multitude of conquerors occupied Athens, and erected unique, splendid monuments - a rare historical palimpsest. In 1834, it became the capital of the modern Greek state and in two centuries since it has become an attractive modern metropolis with unrivalled charm.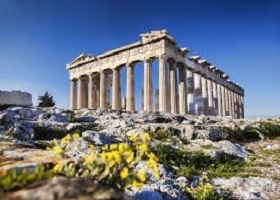 Get Quote
Talk To Expert