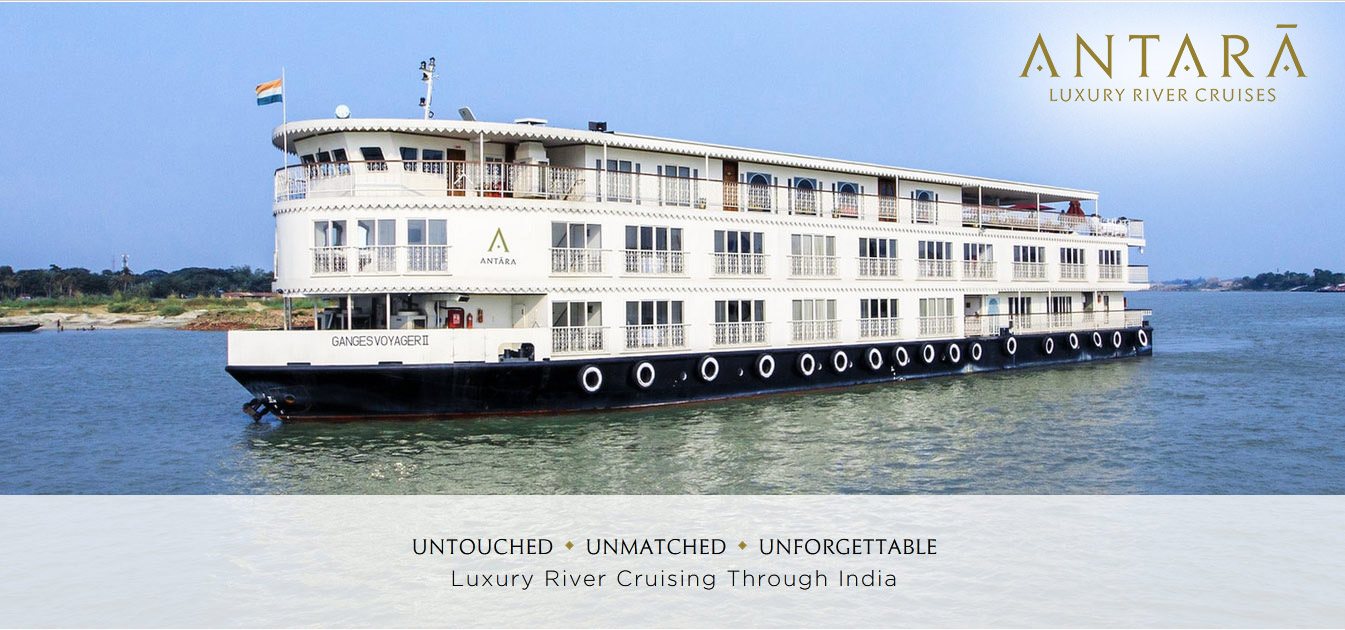 Antara, derived from the Sanskrit word "Antar" meaning "the distinction", became a source of inspiration for us to make a difference and take you on a journey along the spiritual rivers of India, to rediscover yourself and experience the joy of spending time with your loved ones in luxury.
Antara Cruises owns and operates its fleet across the Indian rivers. The lavish ALL SUITE cruises take you to untouched destinations along the Indian rivers while you experience the ALL-INCLUSIVE warm, personalized and unmatched Antara hospitality. Owned by Heritage River Journeys that has over 15 years of proven expertise in innovative small ship design that is socially and environmentally responsible, Antara Cruises, with over 100 team members has already set high standards in the luxury river cruise ship making it the ideal choice for top international cruising partners.
With a current fleet of two ships Antara Ganges Voyager and Antara Ganges Voyager II each with 28 suites ( maximum 56 guests) stationed at Kolkata, we offer a very intimate, personalized cruising experience while our guests follow the course of the holy Ganges up to Varanasi. Two more ships are under stages of construction and will be sailing within the next 12 months.
The 'all suite' offering, French balconies, expansive social spaces, plush on-board amenities, unique gastronomy experiences, wellness, sunrise yoga, activities on-board, and excursions make Antara cruises a perfect venue for a pre-wedding retreat, milestone events like anniversaries, birthdays, spiritual retreats and family reunion while sailing on the Ganges.
The ships can be hired for buyouts and have itineraries available for bespoke celebration charters. The true spirit of Antara is built around serving from the heart, nurturing strong relationships with our guests, partners, colleagues, and our communities. We do this by being responsible in our actions and to this effect have introduced 'ANTARA ASSURE' heightened hygiene, health, and safety protocol that has been implemented based on local and international health experts and authorities to offer a comforting and enjoyable experience to our guests and a safe workplace for our team members.
indian HOSPITALITY
Come aboard and discover India's fine tradition of hospitality with globally benchmarked services. A place where everything you want just appears served with a smile and warmth that will endear you.
Life ONBOARD
All suite river cruise with personalized butler service makes Antara the finest cruise in this part of the world. Warm and friendly service with attention to detail are a delight for the travellers.
Riverside
With a vision to make your journey along the ancient river routes of India memorable, we have meticulously carved out itineraries to explore some of the most beautiful destinations from Kolkata to Varanasi. Discover new cultures, new experiences and new destinations while you sail on the rivers of India.
ALL INCLUSIVE
Enjoy all the pampering you deserve with our all inclusive amenities and services. With one price that includes accommodation, all meals, speciality teas and shore excursions to complimentary Wi-Fi and more. All you need to do is sit back and unwind.

Onboard
Sail on the All-suite ships designed to give you a "sense of place" that take you into the heart of India. With large indoor and outdoor public spaces, french balconies and large windows ensuring you the perfect riverscapes.
Exceptional Service
All suite cruises with personalised butler service and the highest staff-to-guest ratio, your Antara River Experience is true luxury.
Culinary Mastery
Our chefs have curated Michelin-inspired, incredibly flavoured, regionally influenced menus to take you on a culinary journey. A combination of local and international delicacies are available onboard.
Luxurious accommodation
An all suite award winning Antara river cruise promises to sail you into a world of comfort and style. With spacious accommodation, french balconies and other luxury amenities, Antara cruise promises an exceptional experience.
Cultural Immersion
After spending the day in off-board excursions, enjoy cultural dance performances within the premises of the cruise. These folk dance forms offer a glimpse into India's rich heritage and culture through their synchronized moves and attire.

Riverside
Antara Destination Discoveries – inclusive and optional shore excursions, Signature Events and Pre and Post journeys – create a holistic cruise experience.
Antara experiences
Curated experiences at each destination with unrivalled options – both inclusive and optional – are curated to give you ample choices which range from culinary to cultural, wildlife to spiritual and much more.
Signature Event
Each voyage has a signature event. This complimentary experience combines privileged access and transformational experiences to make you want even more.
Extend Your Travels
From Jaipur to Delhi, linger a little longer in some of India's most intriguing cities with a choice of optional pre- and post-cruise hotel stays and curated multi-night programs.