Big Cruise Ship Vs. Small Cruise Ship - What is the Difference?
Cruise ships are not all alike, and size is very much a factor in finding the ocean cruise experience that is right for you. The size of the ship influences the style of cruising and whom you cruise with. It also influences where you can go.
Big ships carrying up to 6,800 passengers visit popular, tried-and-true ports of call in places such as the Caribbean, Mexican Riviera, Mediterranean, and Alaska. On board, they have all the attributes of small cities or expansive resort places such as Walt Disney World and Las Vegas. You may need to put on sneakers to explore. Many have waterslides, restaurants (some for an extra fee) and bars abound, as do nightclubs and lavish casinos, providing a frenetic pace day and night.
By contrast, small ships carrying 350 or fewer passengers focus more on the experience of being at sea, in a social setting, with great food and drink and time in port, including late-night stays and overnights, to dive into the local culture. You call at less-visited places around the world, such as a remote Tahitian village or a tiny Greek isle, in addition to extraordinary marquee places. Often, port stops have a feeling of visiting someplace wonderfully undiscovered.
Choosing between a big ship and a small ship is akin to the choice between a huge department store or a small local shop; staying at big name-brand convention and resort hotels or a small boutique property.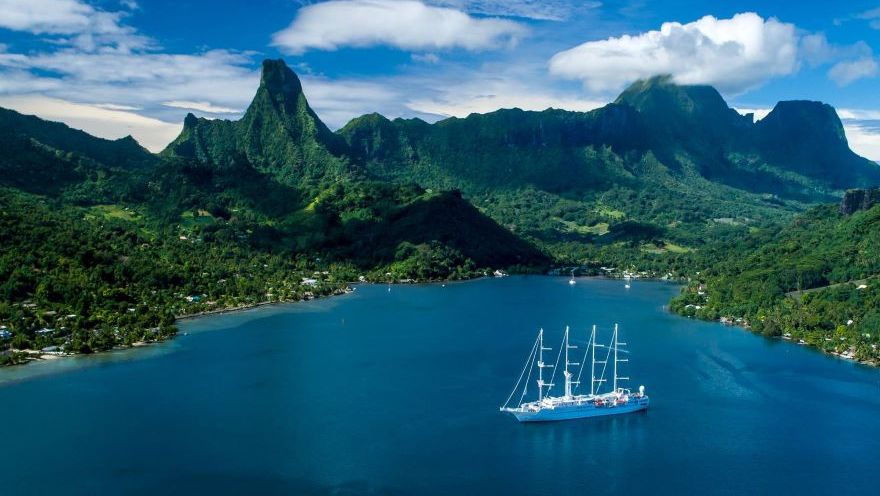 Who is onboard?
Big ships are designed for guests of all ages; the focus is something for everyone. Hundreds (and sometimes more) kids and teens on board may hang out in expansive playrooms with age-appropriate activities, while the thousands of adults on board jostle for lounge chairs near the lively and sometimes raucous pool scene, complete with music and games, or in special quieter adults-only sun areas (some for a fee). Passengers choose from a long roster of grownup activities, day and night. The idea is plenty to do to keep everyone happy. The size of the ships means that sometimes you will encounter crowds and lines.
By contrast, small ships, like those of Windstar, tend to host a social bunch of adults, couples, and solo travelers, who are curious and looking to learn more about the world. Guests tend to want to kick back and enjoy their own time at sea, sunning, reading, dipping in the hot tubs, or simply enjoying the ocean breezes and views from the broad teak decks – and in the case of sailing ships, looking up to tens of thousands of feet of beautiful billowing sails. When they do venture indoors, it is for cerebral pursuits such as a lecture by a historian or naturalist. Cocktails and dining are social events. You won't feel lost in a crowd. You might find yourself pretending you are on your own private yacht.
Entertainment and activities
During the day on big ships the activity list is long: contests and games, lectures (including on such topics as shopping and how to eliminate body fat), cooking classes, cocktail- and wine-tastings, scavenger hunts, and anything else the cruise directors and entertainment team can think up – even parades in the promenade on some mega-ships. At night, big ships offer live music in several watering holes and extravagant show productions with singers, dancers, lavish costumes, and sometimes acrobats flying down from the ceiling. Both the casino and nightclubs attract a late-night crowd. A couple of nights a week on some ships, guests are encouraged to wear suits or tuxes, cocktail dresses or ballgowns, which can fill a suitcase.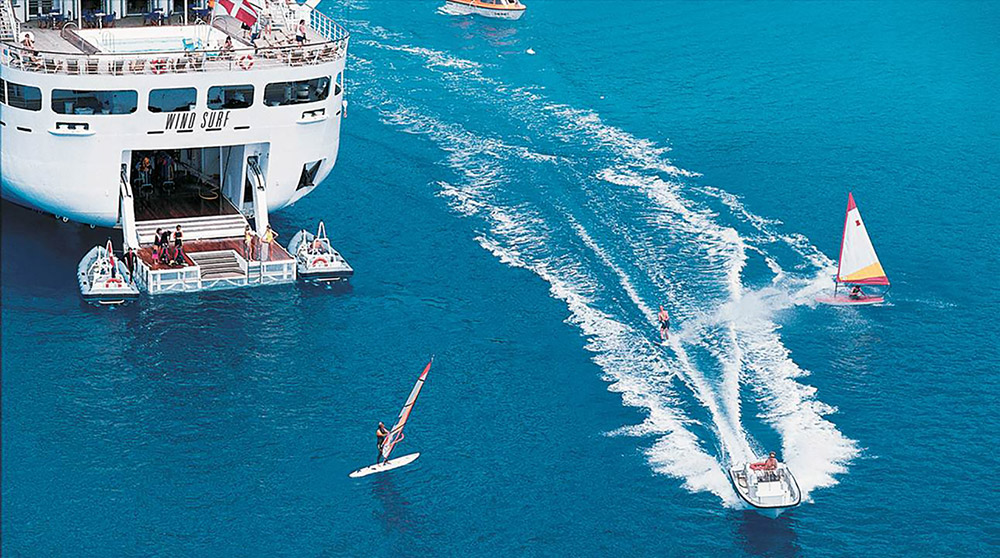 Small ships with only a few hundred passengers are decisively more laidback. In a convivial, relaxed, unpretentious atmosphere, guests often prefer to entertain themselves, whether spending time simply getting to know their fellow guests and the crew or enjoying the sea views while reading a book. Some attend fitness and yoga sessions or book a massage. On Windstar ships, thanks to an open-bridge policy, passengers may hang out with the officers and discuss navigation. Inside, the ships are airy and contemporary, with nautical features such as real brass and a marine color scheme, a perfect place to regale fellow passengers about your past travel experience.
The focus of these small ships is more enrichment than frenetic activities. You may attend a lecture to learn from an expert about the region or island where you are sailing, or while away free time during a wine tasting focused on regional varietals. On select sailings on Windstar ships, you may attend a cooking demonstration by a James Beard Foundation chef. A leisurely dinner at a choice of indoor or outdoor dining venues is the big evening occasion, no need to wear a tie. Before or after dinner, you might sing along to classic rock tunes led by a piano player.
What's for dinner?
On big ships, huge main dining rooms focus on menus that offer something for everyone, with ingredients that are stocked from a warehouse. Guests may choose between assigned seating (you dine at a set time with the same people each night) or open-seating any time, which may require making a reservation or waiting in line. Finding a table for two in the dining room is rare. Specialty restaurants charge a fee for more intimate spaces and more honed menus – such as venues serving steakhouse, Asian, or Italian cuisine. If you want room service, you may have to pay a fee.
On small ships, in intimate dining rooms, where you can dine each night when and with whom you like, fresh local ingredients (some of which may have been purchased that day) are featured in international dishes and even regional dishes inspired by your cruising destination – and prepared a la minute. If you want to have a romantic dinner for two you just ask for a small table. Or put together a dinner party with new friends. Carefully curated wine selections include regional options.Debuting on Windstar's Star Plus Class all-suite yachts are two new restaurants: A new-take on Spanish cuisine by Michelin-starred chef Anthony Sasso, at Cuadro 44, and grilled dishes from around the world with menus by BBQ guru Steven Raichlen, at the casual, outdoor Star Grill.
Where you sail
Big ships have to stick to tried-and-true ports of call because of their size. They also need to visit ports large enough to handle an influx of thousands of passengers at one time.
With their shallow drafts, small cruise ships and yachts carrying 350 or fewer passengers can get into small harbors at intimate, off-the-beaten-path ports of call, places big ships can't visit due to their size. In dreamy harbors such as St. Bart's, Monaco, and Portofino, Italy, you may be surrounded by the fanciest yachts in the world. In expedition locations such as Iceland and Alaska, your small ship can go deep into the wilderness-surrounded waters of national parks to bring you closer to nature and wildlife such as magnificent glaciers and humpback whales frolicking in their summertime breeding grounds.
What you do in port
Big ships sell shore excursions for the masses. Even on tours focused on small groups, passengers at the pier face crowds trying to find the correct bus or guide. At ports where big ships cannot dock, passengers tender (on small boats) to get ashore, and you may have delays. Going off on your own may involve jostling for a cab or even waiting in line to leave the ship and pier area. With thousands of people coming off the ship, some ports will have more cruise passengers in town than residents. Your stay in port may be limited by the logistics of moving the crowd.
Small ships eliminate the crowd factor. Guests do relaxed exploring on their own or join curated small group excursions with local guides, such as a walking tour through medieval alleyways, a biking trek in the countryside, or visiting markets and food producers (perhaps even accompanied by the ship's chef). Even at bucket list attractions – such as the ancient city of Ephesus in Turkey – you will find your small ship line has considered ways to help you avoid the masses. Unrushed itineraries, including more late-night and even overnight stays, allow time to delve into local culture and nightlife – a deeper experience than just a quick look at a destination's top attractions.
Windstar's small ships and yachts all have water sports platforms off the stern and offer complimentary activities such as kayaking, snorkeling, sailing, and tubing.
Book your Luxury Windstar Cruise Holiday 2022 with us and get best cruise deals.