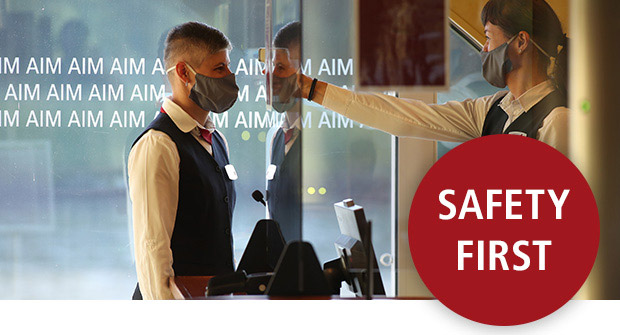 A-ROSA and the Safety-First-Concept.
Travelling safely on Europe's most beautiful rivers.
TRAVELLING SAFELY WITH A-ROSA – 100% HOLIDAY EXPERIENCE.
We want our guests to feel completely comfortable! This is why we are doing everything to ensure we have your health, safety and well-being at the heart of everything we do, so you can relax and enjoy a wonderful holiday together!
VACCINATION AND RECOVERY STATUS & ENTRY DECLARATIONS
There no longer is any obligation to provide proof of vaccination or recovery or a certified negative test result. However, we recommend that you carry out a self-test before departure. Likewise, we still recommend that you wear a medical mouth and nose protection in indoor public areas and wherever safety distances cannot be maintained.
A-ROSA PREMIUM ALL INCLUSIVE:
FullBoardPlus with gourmet buffets
High-quality drinks throughout the day
ALWAYS UP-TO-DATE:
We are carefully monitoring developments and, if necessary, preparing alternative schedules. Should there be any changes, we will inform you immediately.
Current Travel Information
LOW WATER ON RHINE & DANUBE
The weather situation in Europe is increasingly reflected in the water levels of sections of the Rhine and the Danube, which have decreased due to unusually low-precipitation phases. Experience shows that after a short period of precipitation, water levels rise again within a few days.
The safety of our guests and crew members is the highest priority for A-ROSA. We are in constant dialogue with the port authorities and respective water management offices along the itineraries. We review the respective conditions for each river stretch between individual ports on a daily basis and ensure the safe realization of our cruises. In principle, a cruise is still feasible even if the water level is low. Only beyond a certain point can the course of a voyage not be carried out as planned. Since water levels vary at very short notice, it may be necessary to adjust the itineraries and the ports of embarkation and disembarkation on the Rhine and Danube.
Rest assured that even if an adjustment is made, you will fully enjoy your vacation with A-ROSA. We will offer you attractive alternatives and thank you for your loyalty. On board you will of course experience the well-known A-ROSA atmosphere and the excellent service. Our crew is looking forward to welcoming you aboard one of our ships soon.