Royal Brunei Airline
Royal Brunei Airline, flag carrier of the Sultanate of Brunei, was established on 18 November 1974 as an independent corporation wholly owned by the government. Airlines is honored to be a 4-Star Airline awarded by SKYTRAX and joins a select group of elite airlines in the world. Airlines provides scheduled services across Asia, the Middle East, Australia, and the United Kingdom and Airline fly Nonstop from Dubai to London.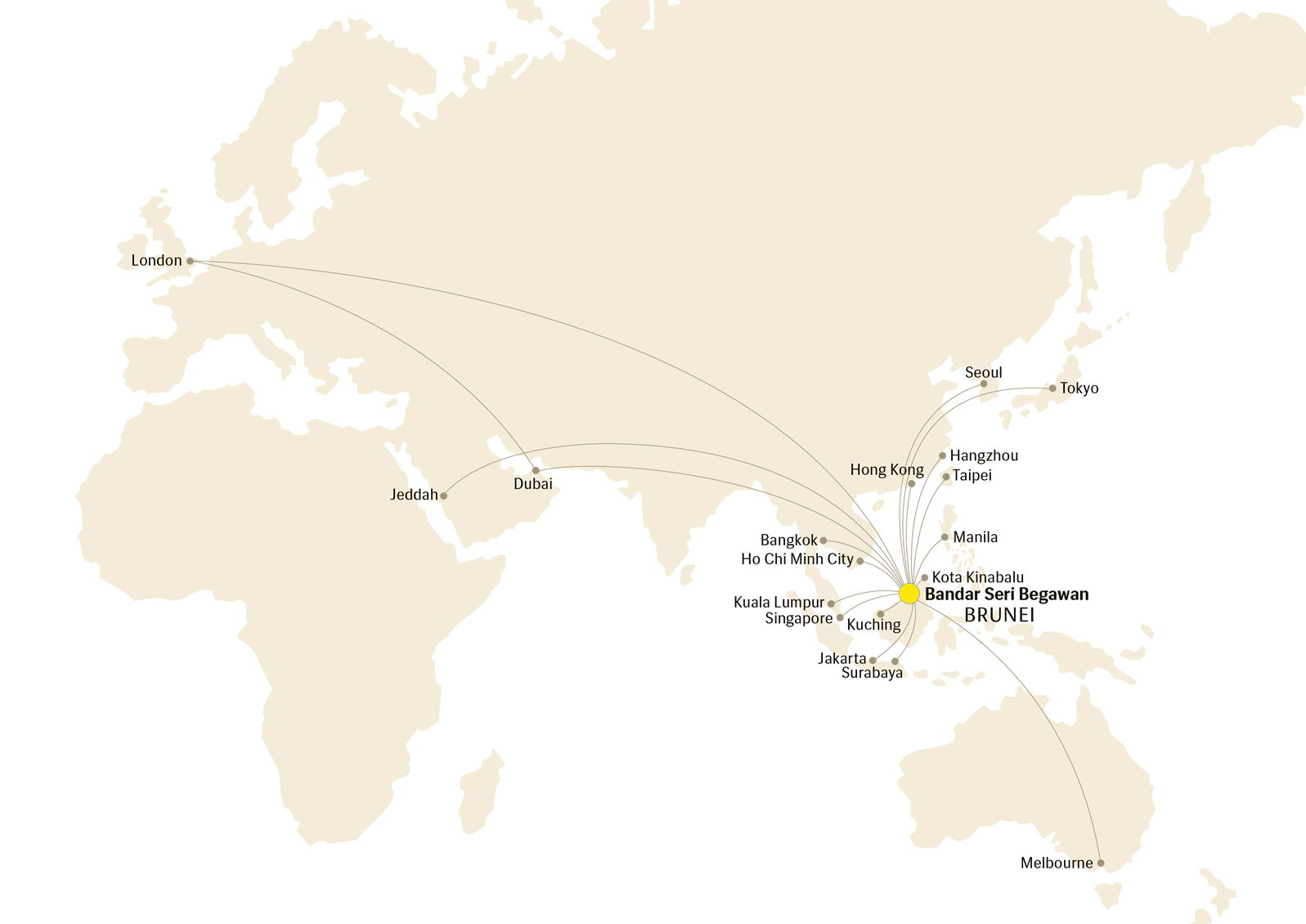 Fly Royal Brunei Airlines from India
From India, passengers can fly Air India, Singapore Airline and Thai Airways to reach the gateway cities such as Bangkok, Singapore and Kuala Lumpur, and travel by Royal Brunei Airlines to destinations beyond.
From Bangkok, Singapore and Kuala Lumpur to Bandar Seri Begawan.
From Bandar Seri Begawan (BWN) to Dubai, London, Bangkok, Singapore, Kuala Lumpur, Melbourne, Brisbane, Kota Kinabalu, Hong Kong, Shanghai, Jakarta, Manila, Surabaya, Bali, Ho Chi Minh City, Jeddah, Tokyo, Seoul, Taipei, Hangzhou , Nanning, Haikou, Changsha, Hangzhou.
RBA Highlights
RBA offers commissionable fares for IATA Travel Agents.
RBA has an interline Agreement with 41 International Airlines.
Special Promotional fare available from Bangkok/Singapore & Kuala Lumpur to BRUNEI.
Competitive Marine fares are available with marine agents.
Special fares are available to BRUNEI
Royal Skies
The airline's frequent flyer programme launched in May 2003, sets itself apart from other loyalty programmes with its straight forward simplicity and generosity in accrual of miles and redeeming rewards. Royal Skies membership is free and members are able to enjoy their rewards much quicker as redemption begins from as low as just 5,000 miles.
Royal Brunei Holidays
Provides an array of inbound tour packages, namely Brunei Transit, Brunei discovery, Brunei Nature, Brunei diversity and Brunei & Borneo. Besides providing attractive packages for passengers traveling outbound, Royal Brunei Holidays also offers hotel booking online with instant confirmation worldwide.
Sky Lounge
With a seating capacity of 120, it offers buffet dining area, a mini cinema, a games arcade, a kids' zone, shower facilities, free internet access & prayer and ablution areas for Muslim passengers.
Sky Dreamer
Offers maximum comfort by extending to 79 inches seat pitch, 90 degree flat bed in Business class with 15.4 inches personal screen.
Sky Menu
Offers "Dine Upon Request" for Business Class passengers, which gives them the option of choosing to dine at their desired mealtime.
Online Check-in
Avoid hassle at the airport, check in online and print your boarding pass at your convenience. Available 48 hours to 90 minutes before your scheduled departure time.

For any information, please contact: