United Airlines
United's shared purpose is "Connecting People. Uniting the World." United has the most comprehensive route network among North American carriers, including U.S. mainland hubs in Chicago, Denver, Houston, Los Angeles, New York/Newark, San Francisco and Washington, D.C. United has a modern fleet which is the most fuel-efficient among U.S. network carriers (when adjusted for cabin size) as well as Industry-leading loyalty program that provides more opportunities to earn and redeem miles worldwide.
United has served India since 2005 and is operating from Delhi from India. United provides daily nonstop flights from Delhi to New York/ Newark. United flights are conveniently timed to connect at our hubs with an extensive network of destinations throughout the Americas. United customers in India can book flights by visiting www.united.com, contacting United Reservations on +91-124-4315500 or their travel agent.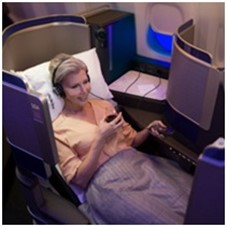 United Polaris
United Polaris® business class service aims to bring a new level of quality to premium cabin travel and provide the best sleep in the sky. Customers will enjoy the United Polaris inflight experience, including restaurant-quality dining, Premier Access® premium travel services, free checked baggage and inflight entertainment options. United Polaris® lounges are available exclusively to our international premium cabin travelers at select airports and offer signature seating, a relaxation area and showers.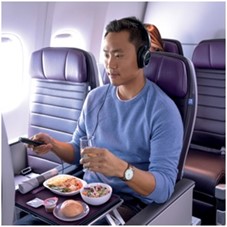 United Premium Plus
United Premium Plus℠ is our premium economy experience that offers more space and amenities to make your travel more relaxing and comfortable. Seats are closer to the front of the plane and offer additional leg and elbow room and reclining space; they're also made of plush material and have bonus features such as adjustable leg and foot rests, an individual power outlet and USB charger. On select long-haul international flights, you'll receive upgraded dining options, complimentary alcoholic beverages, a larger inflight entertainment screen, noise-reducing headphones and Saks Fifth Avenue bedding.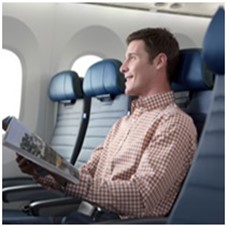 United Economy and Economy Plus
On international flights, customers traveling in United Economy® can bring one full-size carry-on item on board and receive a complimentary seat assignment prior to check-in. You'll also enjoy complimentary beverages, including beer and wine, complimentary meal service and mid-flight snack and inflight entertainment. United Wi-Fi℠ is available for purchase. You can also purchase Economy Plus® seating, where you'll enjoy up to 6 inches (15 centimeters) of extra legroom located near the front of the United Economy cabin.
United Club
Want a break from the hustle and bustle of the airport concourse? United Club locations and our partner lounges offer free snacks and beverages, high-speed Wi-Fi and more. Our extensive worldwide network of lounges includes more than 45 United Club locations, five United Polaris lounges and partner lounges.
Wi-Fi
United Wi-Fi℠ features a portal that offers flight information, destination weather reports and free access to united.com, and the ability to purchase internet access on select flights. If you purchase internet access, you can check email, use previously downloaded apps or browse the internet. United Wi-Fi pricing will vary.
United app
Our app is your travel toolkit. Book United flights, check flight and upgrade statuses, view your MileagePlus account information, check in, receive a mobile boarding pass and more, directly from your mobile device. Available for Apple and Android devices.
For any information, please contact: