United Airlines
United Airlines and United Express operate approximately 4,700 flights a day to 356 airports across five continents. In 2017, United and United Express operated more than 1.6 million flights carrying more than 148 million customers. United is proud to have the world's most comprehensive route network, including U.S. mainland hubs in Chicago, Denver, Houston, Los Angeles, Newark/New York, San Francisco and Washington, D.C. United operates 760 mainline aircraft and the airline's United Express carriers operate 546 regional aircraft. The airline is a founding member of Star Alliance, which provides service to 193 countries via 28 member airlines.
Together with Air Canada and the Lufthansa Group, United is part of the Atlantic Joint Venture, which offers a range of additional benefits for you and your travelers.
United is now serving BOM-EWR route, United's 777-300ER aircraft offers a modern, spacious interior including the airline's all-new United Polaris business class seat. Each United Polaris suite-like pod features direct access to the aisle, a 180-degree flat-bed that measures 6'6'' and 23 inches wide with infinite seat recline options and one-touch lumbar support, ample storage, a 16-inch high-definition entertainment screen, electronic privacy dividers for seats in the center of the cabin, mood lighting and an illuminated "Do Not Disturb" sign.
Polaris Business Class Redesigned from Ahh to Zzz
Named after the North Star, the brilliant point in the night time sky that travelers have looked to as their certain and constant guide, United Polaris is the shining new star of business class that flyers can look to and depend on for true comfort and a sleep experience like no other. United Polaris Business Class will replace United BusinessFirst on international flights, and United Polaris First Class will replace United Global First service. Both of these changes will come with significant enhancements to the service and products provided in our current international premium cabin experience. Your travelers can enjoy United Polaris service features, including new menus, new bedding, new dinnerware and new amenity kits on all United long-haul flights.
Polaris Business Class Seat
Custom-designed all forward-facing, direct-aisle-access seats that recline 180 degrees flat.
Sleeping spaces that are up to 6 feet 6 inches (198.12 cm) long and up to 23 inches (58.42 cm) wide.
Illuminated "do not disturb" signs that let your travelers signal that they'd prefer not to be awakened.
In locations where two seats are next to each other, there's a powered privacy divider so your travelers can easily tuck themselves away and forget that there are other travelers nearby.
The United Polaris seat, which is being manufactured in Wales, has taken its first flight in early 2017 on Boeing 777-300ER aircraft.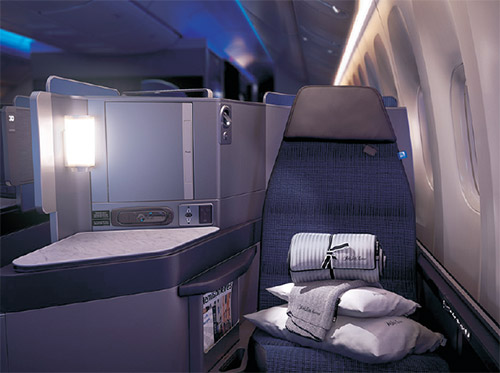 United Economy Your travelers can:
Relax in ergonomically-designed seats with up to 31 inches of legroom.
Stay comfortable with blankets and pillows available during the flight.
Treat themselves with Duty Free Shopping available on board.
A hearty three-course meal featuring an appetizer, main course and new salads with artisan bread.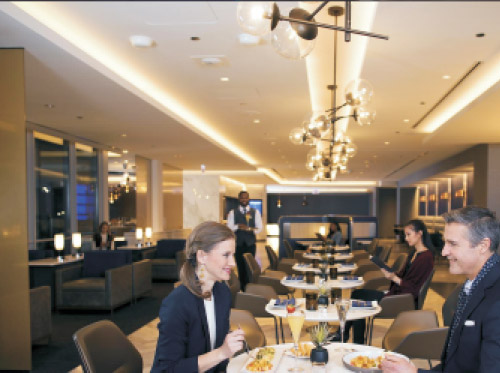 United Economy Plus
Stretch out with extra legroom:
All the benefits and services of Economy, but with extra space and added comfort.
Up to 6 inches of additional legroom providing a total of up to 37 inches of legroom.
Seats located near the front of the Economy cabin allowing swifter exit on arrival.
Experience more with miles Your customers can enhance their travel with our award-winning loyalty program
United's MileagePlus is the world's most rewarding loyalty program, with a wide array of travel, credit card and retail partners. MileagePlus members may earn elite travel benefits, including Premier Access airport services, and have access to one of the most extensive merchandise redemption programs in the industry. With United's industry-leading global route network, no other airline offers more destinations for award travel.
Access to the United's Lounge Network
More than 50 United Clubs and lounges in 31 airports worldwide offer members complimentary bar service, light snacks and beverages; business amenities such as Wi-Fi, wireless printing and workstations; and personalized assistance with reservations, seat selection, upgrades and boarding passes.
Our lounge in Delhi is located in Star Alliance Lounge at Indira Gandhi International Airport and in Mumbai it is Mumbai International Airport Lounge at Chhatrapati Shivaji International Airport
For any information, please contact: +91 - 124 - 4315500