Royal Jordanian Airline
For more than 55 years, Royal Jordanian has been offering the best of luxury air travel to ensure that your flight experience is both memorable and gratifying. It operates to Europe, Asia, North America, Africa, Arabian Gulf & Levant countries with a fleet of more than 26 modern Aircrafts.
Royal Jordanian membership in the oneworld airline alliance helps to become a choice among leisure and business passengers.
From India Royal Jordanian is offering through competitive fares with our partner Airlines Emirates Airlines via Dubai , Etihad Airways via Abu Dhabi and Qatar Airlines Via Doha. Providing competitive through fares to US/CA/EU from 8 major metro cities of India Like Delhi/Mumbai/Bengaluru/Hyderabad/Cochin/Chennai/ Ahmedabad/Kolkata.
Passenger can also fly on any carrier like AirIndia, Spicejet, Indigo or Vistara Airlines upto Dubai, Abu Dhabi, Doha & Istanbul and further connect to RJ onwards destinations.
Competitiveness of Royal Jordanian:
Royal Jordanian enjoys a leading position, both internationally and locally, due to the great services it offers its passengers.
RJ distinguishes itself through its young fleet of aircraft, which averages five years, and through the top-notch services it offers its passengers.
Diverse network of 44 destinations spread across four continents.
Offers Competitive SOTO, Groups and Marine fares.
IATA commission available for agents.
Rated among top 20 safest airlines in the world in 2020 by Airlinesrating.com
Most effective protection against infection. Industrial Size HEPA filters remove 99.97% of viral and bacterial.
Its clean safety record, which has become its strong trademark, puts RJ in a reputable position globally.
Competitive through fares available from Delhi, Mumbai, Bengaluru, Hyderabad & Chennai to Amman with Qatar Airlines.
Offer Through fares for NewYork, Chicago & Montreal from Delhi & Mumbai with Emirates & Qatar Airlines.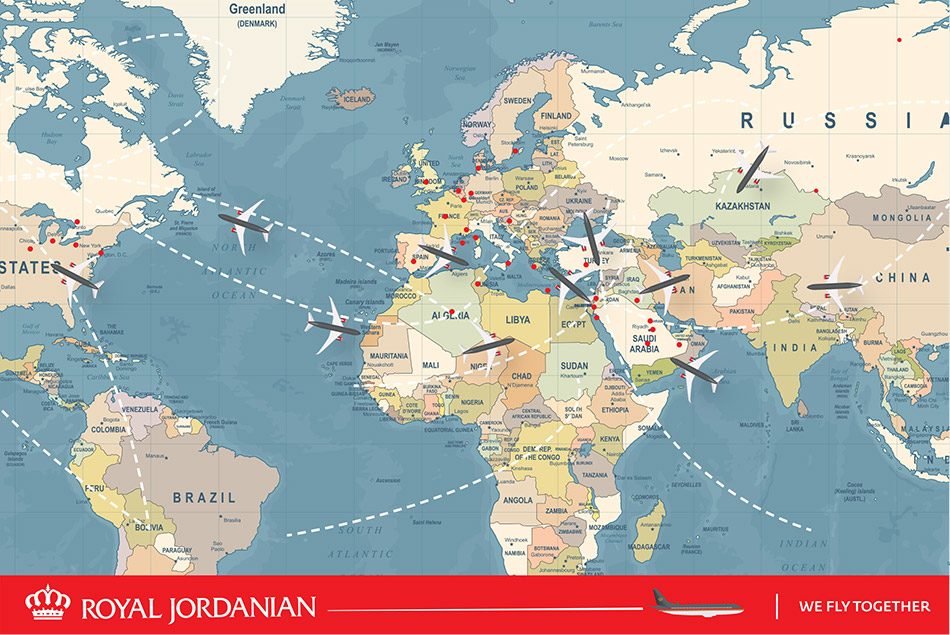 For any information, please contact: